Category Archives:
Conferences
Stylized cinematography is the topic of Erik Smitt's presentation at the fmx 2019. He considers cinematography as an important part of authoring. Therefore, he seemed to be very grateful to be involved early in the creative process and be able to set up lighting before animation. Erik is convinced that it makes a remarkable difference if he lights a scene like he would in a real set. Defining the range of movement in a lit scene supports authenticity and believability.
For "The Incredibles 2" Pixar Animation Studios, he carefully orchestrated contrast, camera movement, distance and framing. Traditional lighting techniques were pushed, an eye illumination system applied for caustics, haze and fog were used to enhance depth and color complexity and to add richness to the sets. He studied references of the 1960s and used shaped light like in Hitchcock movies, worked with silhouettes and various color temperatures according to the time of day.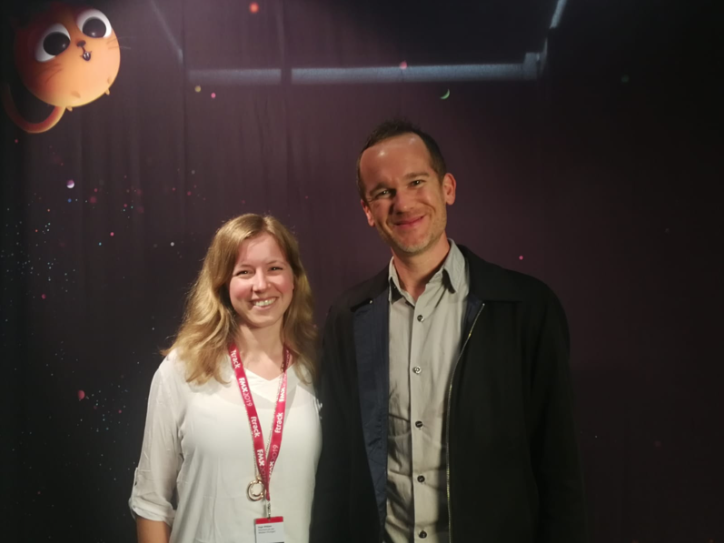 Inga Wätjen, student at Stuttgart Media University, is interested in the challenges of creating a visual style for a sequel and Erik's work as a DoP for animated features.
Interview: Inga Wätjen
Camera and sound: Peter Ruhrmann

Interview: Katja Schmid and Inga Wätjen
Camera: Peter Ruhrmann and Katja Schmid
Audio: Peter Ruhrmann
Editing: Katja Schmid and Inga Wätjen
Article written by Katja Schmid
Simon Griesser is an Animator and Director. Previously he worked for different companies as a Game Developer, 3D Artist, 3D animator/ motiondesigner in Vienna and California. Together with Phillip Comarella he founded Salon Alpin, an animation studio in Lissbon and Vienna.
The studio creates innovative, animations, short films and games with a focus on poetic storytelling. They call themselves a 'sustainable storytelling studio'. Some of their clients include MontBlanc, Greenpeace, Austrian newspaper Falter..
Since 2018 Salon Alpin is represented by Passion Picture Studios. Best known for "Falter inferno" (2015), "Old Man's Journey" (2017) and the recently with the Annie Award 2019 for Best TV Broadcast Commercial awarded "Rang Tan" (2019).
See more about their work: Salon Alpin.

At FMX 2019 Griesser is talking about designing and directing Greenpeace commercial 'Rang Tan' and the conceptual production process of storytelling. We had the chance to sit down with Simon and talk to him about his work as a Director, the immense creativity and uniqueness from Salon Alpin when it comes to animation and techniques and of course about the earth, protecting the environment and raising awareness.
Article written by Lisa Schubert & Malena Trachte
Camera: Lisa Schubert
Interview: Malena Trachte
Editing: Malena Trachte
One of the superstars at FMX 2019 – Trisha Gum is a director and screenwriter. We got to interview her and talked with her about imaginary childhood friends, where she gets her inspiration of and about the differences of directing animators vs directing actors. She also gives some great advice for young filmmakers that are just starting out and tells us about the challenges of being a female director and finding your voice.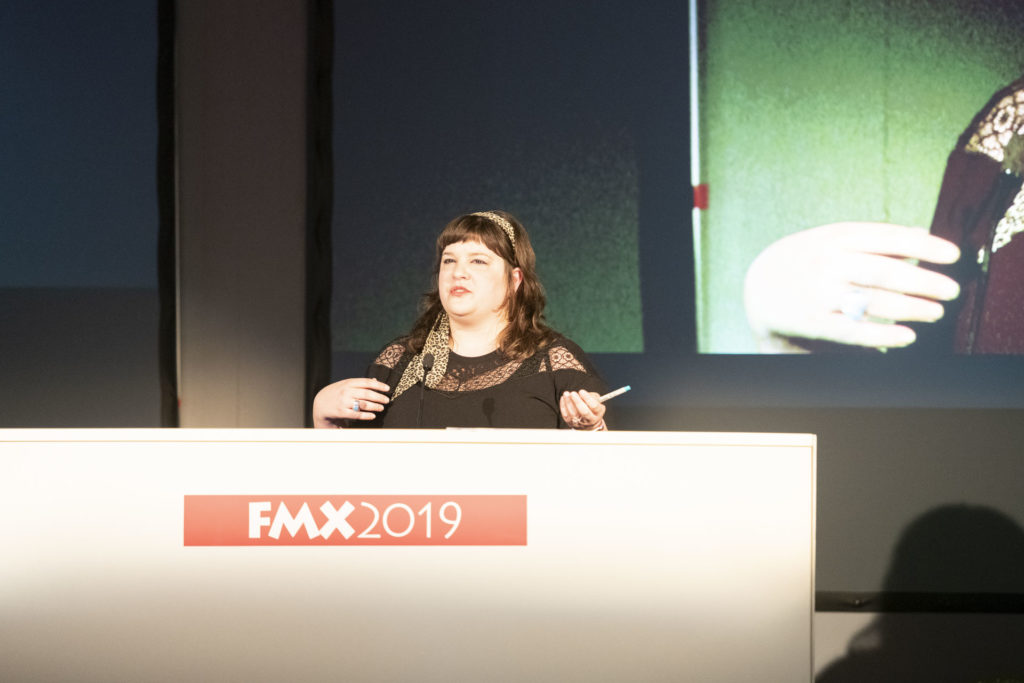 Trisha began her career in art direction and as a set designer, but always knew she wanted to tell stories and worked on her own animations on the side. As a cut paper artist she brings a unique, style and tone to her projects. For her work on Amazons "Tumble Leaf" she was rewarded with an Emmy in 2015. Her latest work includes Story Lead for "The Lego Batman Movie" and Co Director for "The Lego Movie Two".
At FMX she talked about storytelling and concept art and takes part in the discussion "Women in Animation presents: Focusing Female Firepower – The path to inclusivity".
Check out Trishas work: https://trishgum.com/home.html
https://vimeo.com/user10827191
Article written by Lisa Schubert
Interview: Lisa Schubert
Camera: Peter Ruhrmann
Audio: Avina Graefe
Editing: Malena Trachte
Immersive Reality and VR Artist Jenn Duong talks about her experiences starting out in the VR Industry, what the future might hold, the importance of having uncomfortable conversations and how she feels about virtual reality in Game of Thrones.
Jenn Duong is a VR Producer who has an impressive portfolio, having worked with Google, Adidas and most recently the UN. She is a Co-Founder of Women in VR/AR, a community for women, minorities, and allies to connect and collaborate and as well of SH//FT (Shaping Holistic Inclusion in Future Technology) that established VR scholarships for women and minorities.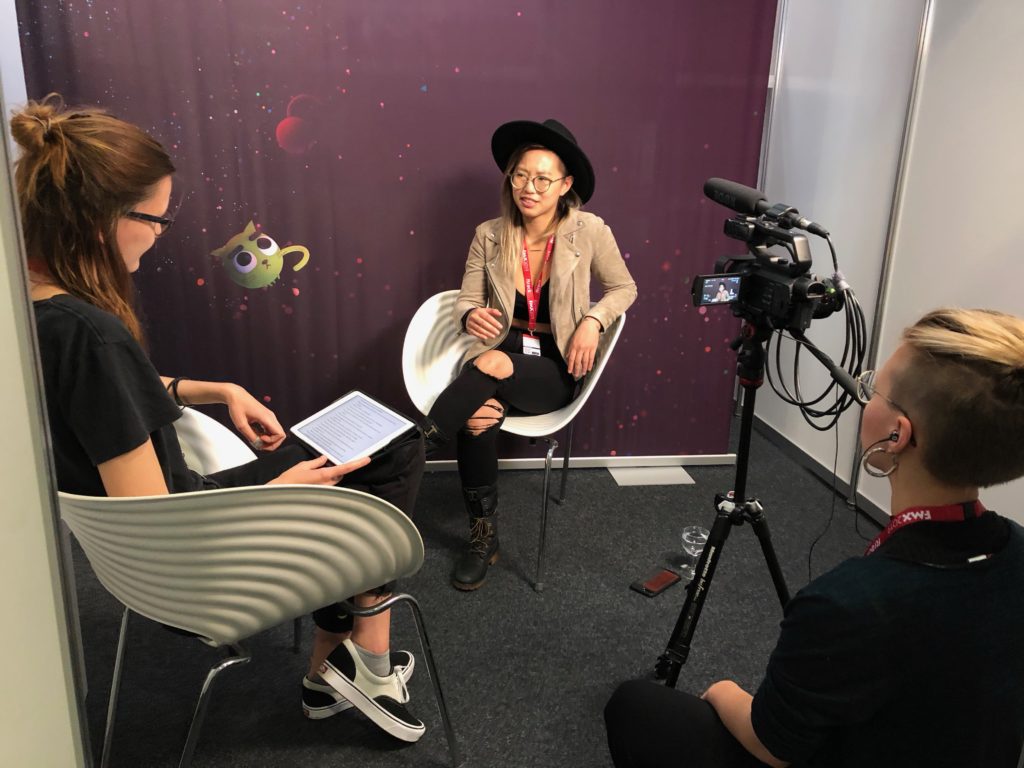 While talking to her, it became obvious that she is passionate about her work and how much she cared about creating a positive social impact on the industry. Having the chance to talk to such a game changing young woman is indeed very inspiring.
You can find Jenn and her work at https://www.jennduong.com/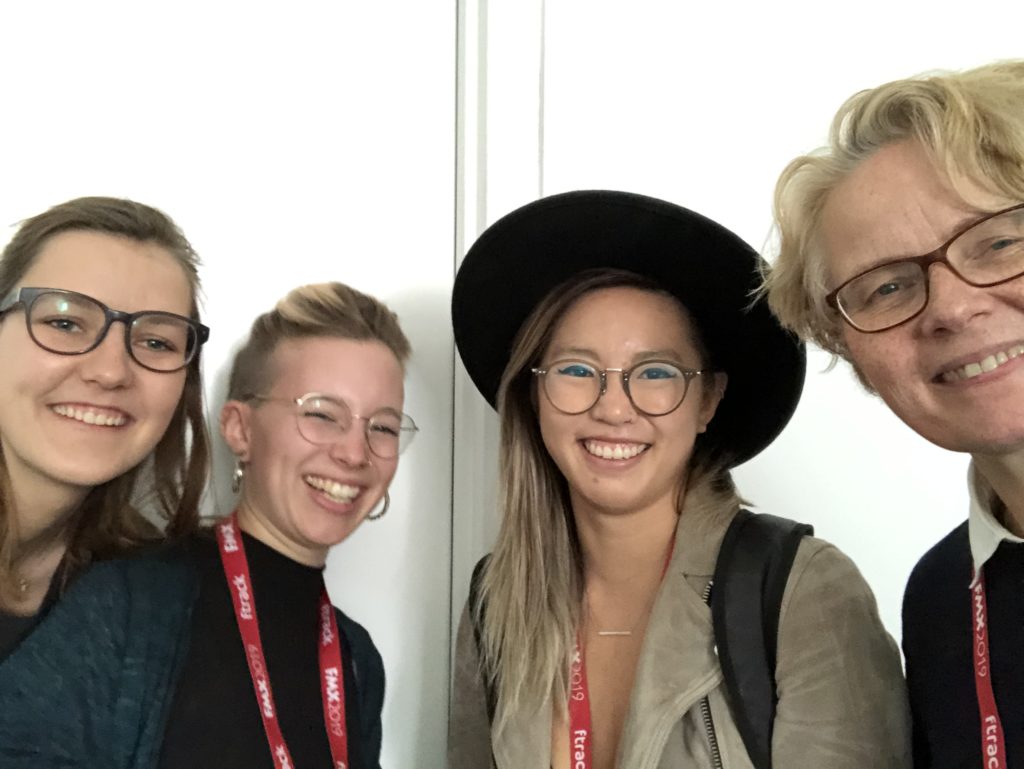 Interview: Lisa Schubert
Camera + Editing: Malena Trachte
Supervision: Prof. Ursula Drees
Article written by Lisa Schubert
About the authors:
Lisa Schubert ist a young illustrator and graphic designer from lake constance, studying at University of Media, Stuttgart to learn more about animation. She loves 2D animation and is never to be found without her sketchbook.
Malena Trachte is a young philosopher from Nowhereland. She recently started her studies at the University of Media in Stuttgart to find new and creative ways of storytelling, learning as much as possible about audio, visual and interactive media engineering.
Ursula Drees is teaching as a full professor at the University of Media in Stuttgart. She is responsible for experience spaces, called "Event Media" – architectural spaces, fully equipped with media, that interact with the visitor. Ursula Drees studied at the University of Art in Berlin. Her mentors were VALIE EXPORT and JOACHIM SAUTER. She spend more than 10 years working in the industry at major digital companies like pixelpark A.G., artemedia A.G., Filmstudios Babelsberg and UNIFIEDFIELD Incorporation in New York City prior to opening her own studio. She won various international prizes like the 42. New York Festival Finalist Award, Gold at the 8. International TV Awards Festival in Cologne, the Communications Award of Excellence in New York, the Print's Magazines Winner of Digital Art to name a few. She writes about topics like "Narration in Media Spaces", "Game systematics in Media Spaces" or "Experience Design in Media Spaces".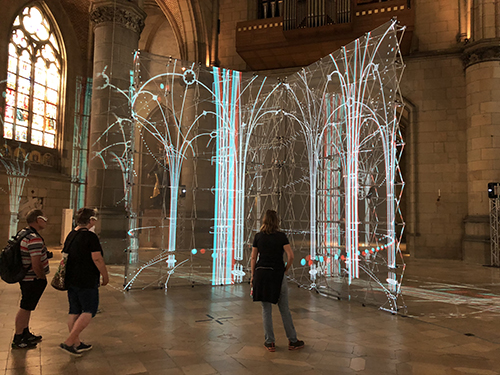 Light Tank  von Uwe Rieger und Yonan Liu.  Der Mariendom in Linz eignet sich hervorragend für großräumige Installationen. Es ist ein imposantes Gebäude. Von außen, als auch von Innen, wie jeder Dom. Die Höhe, die Breite, das Gestein und die Akustik sind beeindruckend, auch ohne Installation. Light Tank ist wie alle, von Uwe Rieger geschaffenen Installationen, auf den Raum ausgerichtet. Sie ist luftig, verfügt über eine faszinierende akustische Stimmung und ist von allen Seiten zu betrachten.
Light Tank ist eine Mixed Reality Installation. Es werden holographische Linien auf eine transparente Gerüststruktur projiziert. Diese Gerüste sind mit durchsichtigem Meshgewebe bezogen. Und wenn die Lichtlinien auf dieses Meshgewebe fallen, begreifen die Besucher, das es eine Projektionsfläche ist. Ohne Lichtprojektion erkennt man den skeletthaften Aufbau und schaut hindurch. Das Gerüst ist vielleicht zwischen 4,20 und 4,60 Meter hoch, in der Breite jeweils 3 Meter. Denn hier handelt es sich um, ein in Kreuzform aufgestelltes, Gerüst.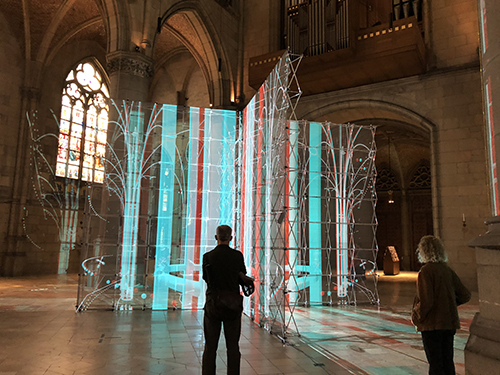 Die Projektionen aus Linien, die mit 3 D Brille auf der Nase, als Säulen entschlüsselt werden, zitieren die Dominnenarchitektur. Sie bewegen sich ununterbrochen, entstehen, zerfallen, bleiben einen Moment und schon geht eine weitere Bewegung los. Sie werden zu einer stilisierten Gewölbestruktur mit klar erkennbarem Schlussstein als Rosette. Türkis, Rot und Weiß, mehr Farben braucht es nicht. Wenn diese Art der Entstehung vollendet ist, werden Ikonographen auf dem Meshgewebe verteilt: Buttons betitelt mit Activate, drüber Kleine in Wireframe abgebildete Quader, die wie Container aussehen, darin Elemente. Manche sehen aus wie eine Gruppe von x, andere ein einzelnes in x Form dargestelltes Ding, dann wieder nur eine Schiene des x oder aber eine Säulenform. Es sind die Bestandteile des Großen. Die Kästen um diese Miniaturzeichen verschwinden und fliegen frei über das Gewebe, als suchten sie einen geeigneten Ort. Daraus werden eine Anzahl von kreisförmigen Zeichen. Sie sind abstrakt, aber jedes einzelne ist ein Teil eines Großen, es ist eine Gattung, ein Kreis mit Winkel und kleinem Kreis, einer mit Parallele und einem Kreis, einer mit Durchmesseranzeige, andere im Aussehen wie Packmanfresser. Daraus werden große Flächen, bewegte Ausschnitte von etwas anderem. Ein steter Fluss von Klein zu Groß, vom Detail zum Überblick.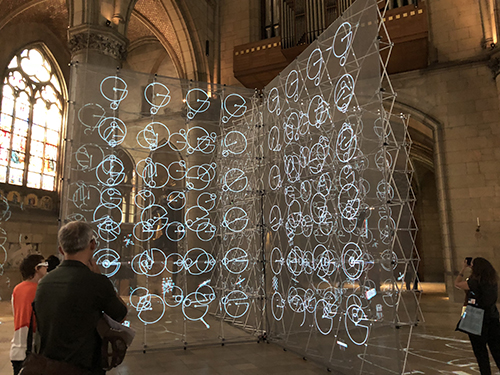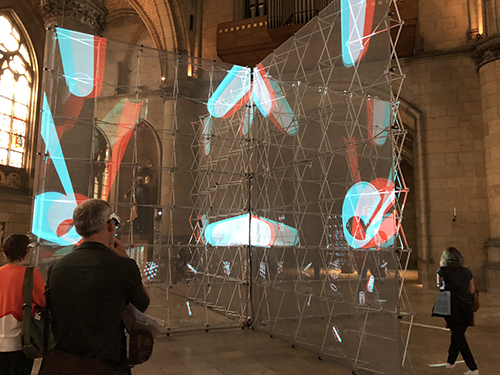 Die Projektionen werden durch Geräusche begleitet. Vogelstimmen und entferntes Rauschen. Es kann Wind sein, es kann Meeresrauschen sein. Hört der Besucher auf eine Küste auflaufende Wellen? Ist der Wind vielleicht auch das Geräusch von Wandten? Es ist ein sphärische Musikkulisse. Sie lässt die Vorstellung wandern, vermengt sich mit den Projektionen.
Kleine Bauteile im Schwarm mit Meer und Wind begleitet werden zu Streben, die im Zentrum zum Architektur der Kathedrale werden. Es löst sich auf und beginnt von Neuem. Ein steter Fluss aus Entstehen und Zerfallen.
Es ist kontemplativ, über lange Zeiträume betrachten die Besucher die Projektion.
Uwe Rieger (DE/NZ) mit Yinan Liu (NZ). Stereoprojektionstechnik auf transparente Leinwände. Unterstützt durch das arc/sec Lab for Digital Spatial Orperation an der School of Architecture and Planning der Uiversity of Auckland. Das Interface wurde in Zusammenarbeit mit dem Augmented Human Lab am Bio Engineering Institute entwickelt, das durch Assoc. Prof. Suranga Nanayakkara geleitet wird. As AHLab konzentriert sich auf Human-Computer Interfaces als natürliche Erweiterungen unseres Körpers, Geistes und Verhaltens.
Gesehen auf der Ars Electronia 2018 im Mariendom
Beitrag von Prof. Ursula Drees