StuPro Grenzgebiete
Grenzgebiete is an Art Event located at the Port of Stuttgart. In corporation with the Hafen Stuttgart GmbH 12 students of the Hochschule der Medien, the university of Media in Stuttgart realized this project.
We created seven installations – some of them interactive, some not – all dealing with the topic of borders, frontiers, boundaries, or limitations. This is probably the biggest work we ever did. The work load was simply overwhelming. But at the very end, we managed, thanks to all the helpers, friends and family. And Sponsors! We worked with endless amounts of technological equipment needless to say, the amount of cables alone is still remarkable. It is a University project, and to be honest: how could we finally be successful? We really don't know. But we were.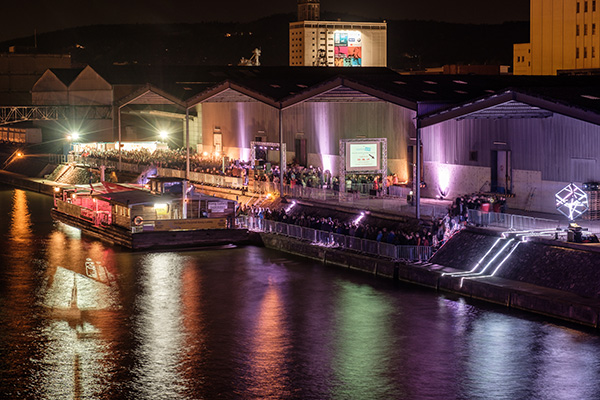 Photographie©Oliver Wedel
Borders = passing boarders
6500 visitors came to the long night of the museums. It is one of the most challenging and biggest projects the Studioproduction EventMedia at the University of Media in Stuttgart ever thought of, planned, realised and performed.
Seven installations were displayed all dealing with the topic of boarders and passing over these boarders. The port of Stuttgart was opened to the audience for one night only. The visitors were invited to go on a 20 minutes lasting boat trip to see the installations. Most of the video projection others interactive installations.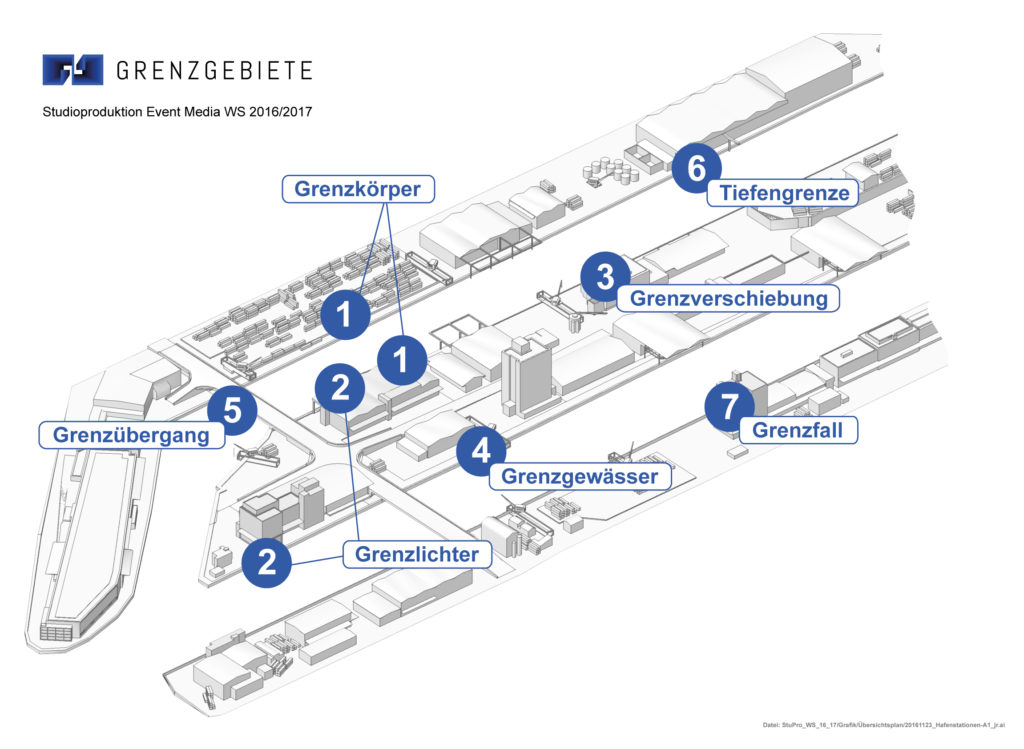 Grenzkörper: In the entrance area we placed the installation "Grenzkörper" which consists of two parts. One is placed at the entrance area. People stand on a platform and move around. These movements change the flow of water. Additionally they activate hidden, virtual sound files and create music. The movement is taken by the kinect camera and displayed onto a computer generated water animation onto containers on the other side of the inner harbor. This is the second part of the art piece. It is a body-water-sound-installation.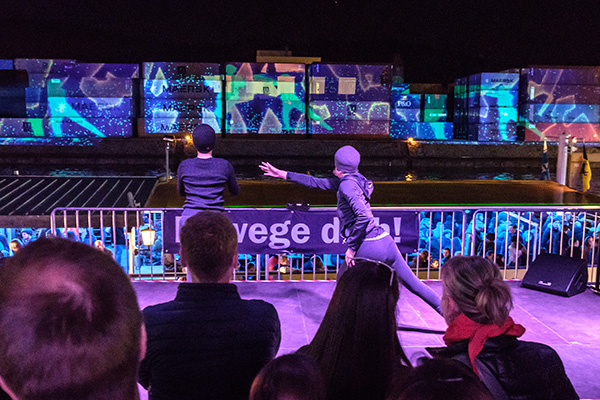 Photographie©Oliver Wendel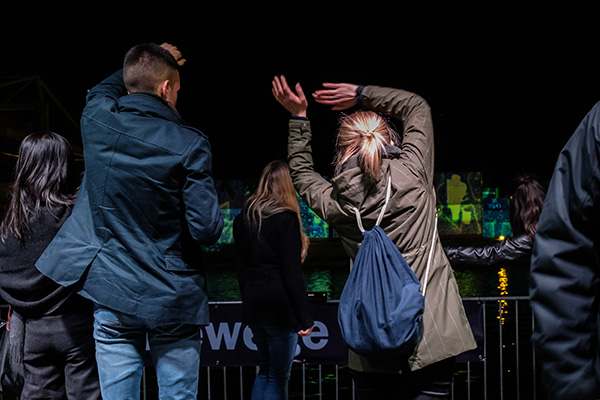 Photographie©Oliver Wendel
Grenzlichter: The next installation Grenzlichter is also a two-part-installation. One part is a steel cube placed in the visitor's waiting area. With a soft touch of their hands LED-lights and sounds are activated. The light runs into the water onto the other side of the port to the second part of the installation, a huge steel cube which picks up the sounds and light impulses and displays them again.
This second cube weights 600 kilos and hangs on a beam over the water into the Wasserstraße 1.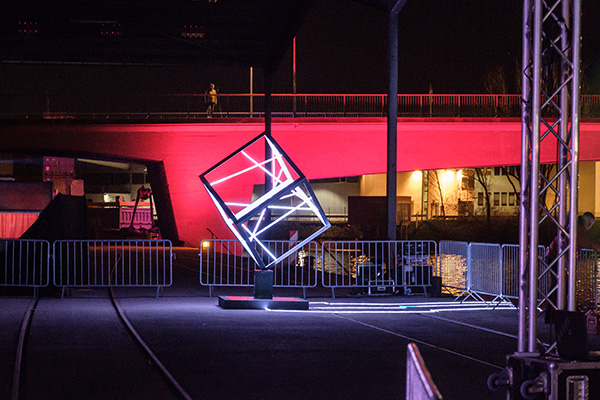 The first part of the installation right at the entrance to the boat. Visitors tough the LED light tubes, a impulse is send to another much bigger cube. Light and sound is set off. Photographie©Oliver Wedel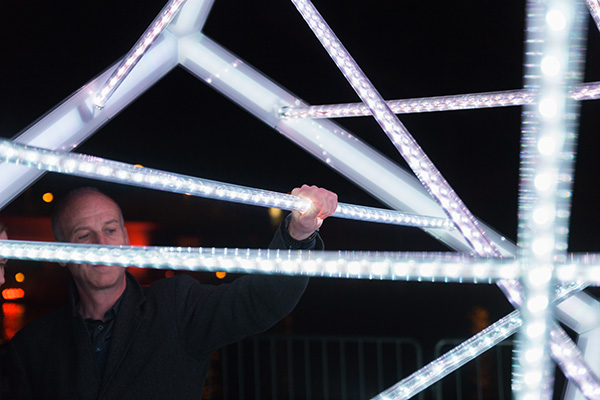 People tough the LED tubes and set the impulse for the second cube. Photographie©Adrain Liedtke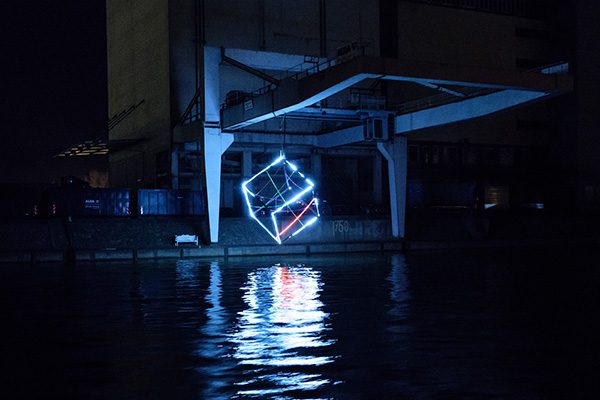 The second cube hanging on beams into the Wasserstrasse 1 (water street One) Photographie©Oliver Wendel
Grenzverschiebung: The following installation, Grenzverschiebung, is a projection mapping. It tells the story of a building that feels, breathes, tastes and has a heart. The movie altogether is about 30 seconds long and is displayed as a loop onto on of the storage buildings. As the boat passes by the visitors sees what the facade does and feels.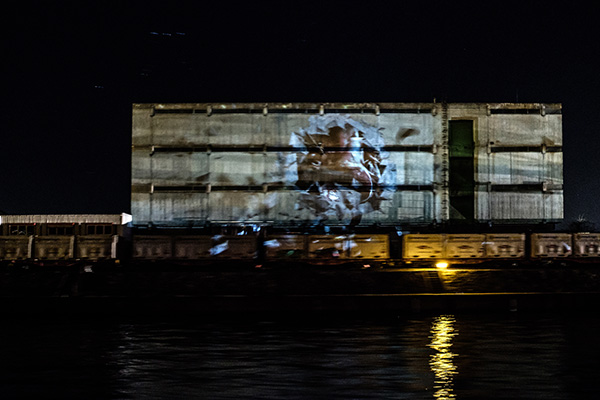 Photographie©Oliver Wendel
Tiefengrenze, the next installment, a projection mapping onto the water surface, showing the imaginary sea life of the Neckar port. We shot the film in various sea life aquariums. The movie shows rays, turtles, moraines, sharks or jellyfish, all living creatures that will not be seen in the Neckar. We projected it right on the water. The projection foil itself was fixed on concrete posts which we installed in the water.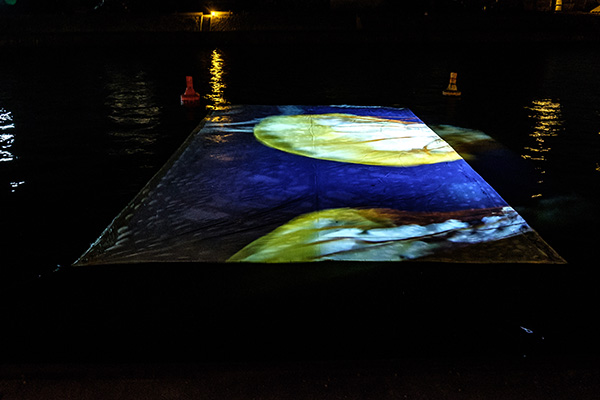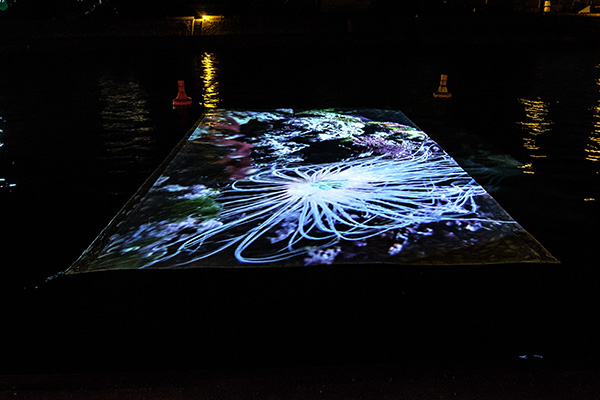 Photographie©Oliver Wendel
"Grenzübergang" is a light- installation with a bridge and a passenger boat. With light and sound this installation shows what happens when a boat crosses a border. When passing the bridge the light is changing the colorful illumination of the bridge itself, the passenger space and the sound atmosphere, which is tracked via GPS. The sound equipment is placed right onto the boat. Thus we avoided placing any sound equipment of speaker in the port area itself. When the boat approaches the installations the suitable soundtracks were played in the passenger space of the ship.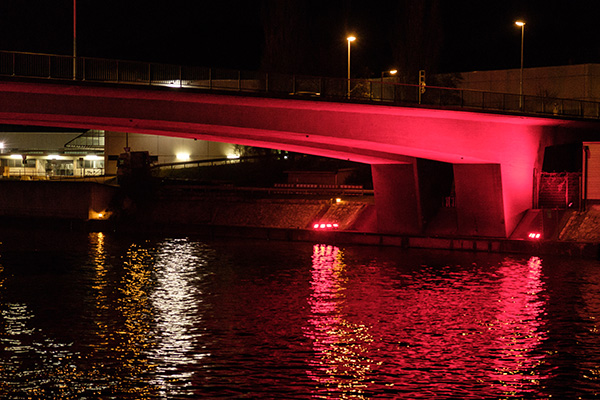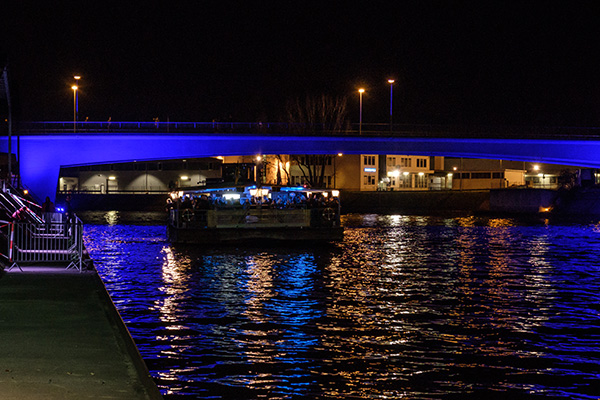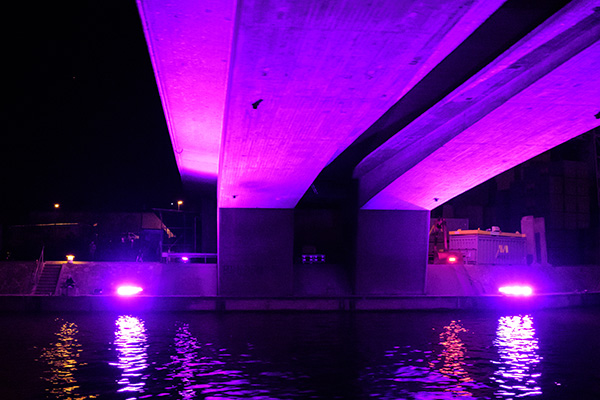 Photographie©Oliver Wendel
Grenzgewässer: With Grenzgewässer, the next piece of work we projected onto a water shield. The Stuttgarter firefighters came and helped us realizing this installation. The pressure of the water is directed onto a small water shield. Thus a wall of water is created which serves as a projection wall where we displayed an animation of an infinity tube.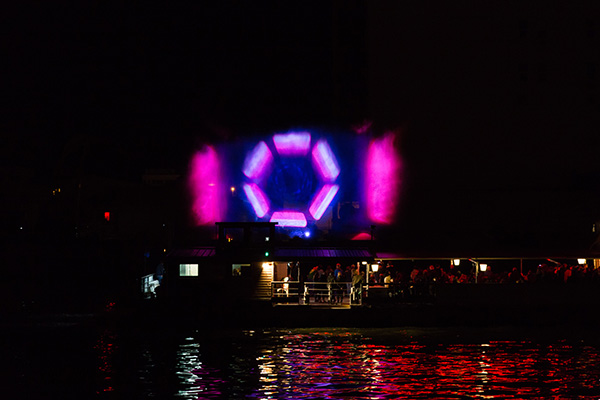 Photographie©Adrain Liedtke
Grenzfall: The last installation is Grenzfall, also a projection mapping. it is a computer animated fluid simulation and shows what happens when water falls in the wrong direction. We changed the gravity.

Photographie©Oliver Wendel
The first two installations Grenzkörper and Grenzlichter are situated onshore; the others are to been seen onto the boat. The boat trip itself takes 20 minutes.
Techniken:
Projektion
3x DLP_Panasonic PT-DZ21K W-UXGA + Optik (2,4-4,7)
Rechner/Peripherie:
2x Computer Soundkarten extern M-Audio Profire 2626, 3x Laptop
Software
Ableton Live Suite 9.7, Adobe CC, DaVinci Resolve 12, Houdini FX (Side FX, Kinect Runtime, Maxon Cinema 4d, Restart on Crash, Soundkarten-Treiber, VLC-Player, Voronoi-Algorithmus, VVVV, VVVV, DX11 Pointcloud Addon, Windows 10
Medientechnik/-steuerung
9x Shure ULX-D4DE K51 Doppelempfänger + 6 aktive Richtantennen, 5x Shure ULX-D1 K51 Taschensender + Klinkenadapter + Stativ + Batterien, Strom/XLR/BNC-Verkabelung
Audio
26x FOHHN AL-10 ultrakompaktes Design-Lautsprechersystem, XLR-Adapter, Manfrotto-Superklemmen, Flugrahmen (FOHHN), 4x FOHHN AS-10 Bassboxen, 4x Powersoft DIGAM M28Q DSP 4-Kanalendstufe in Rack, Motu UltraLite USB Audiointerface
Lichttechnik
LED-Scheinwerfer LITECRAFT LED PAR AT10 (18x10W), MA Lightcommander (12/2)
Team:
Bildergalerie:
| Studiengang | Vorname | Nachname |
| --- | --- | --- |
| AMB | Aline | Müller |
| AMB | Bodo | Lohr |
| AMB | Dorian | Sorg |
| AMB | Elena | Kalinka |
| AMB | Levin | Frenzel |
| AMB | Lucas | Aue |
| AMB | Marcus | Streiter |
| AMB | Tim | Dieckmann |
| AMB | Mareike | Maass - Rebholz |
| MWB | Luca | Jungemann |
| MWB | Michaela Anna | Hönig |
| Tutor | Johannes | Raff |
| IT Beratung | Nadja | Weber |
Photos der Langen Nacht der Museen
Bildergalerie vom Photographen Oliver Wendel:
Bildergalerie vom Photographen Adrian Liedtke:
Bildergalerie von Photographie Friederike Werhahn:
Sponsoren
Bildergalerie:
German:
Grenzgebiete = Grenzüberschreitungen
Besucher des Hafens Stuttgart tauchen an der Langen Nacht der Museen am 25.März 2017 in eine Welt der Grenzüberschreitungen ein. Sie begeben sich auf ein Schiff des Neckar-Käpt'n, das sie an sieben medialen Installationen vorbeiführt. Videomapping und Interaktive Elemente werden präsentiert.
Das Thema:
Grenzgebiete aus verschiedenen Blickwinkeln.
Was es ist:
Sieben multimediale Installationen im Hafen Stuttgart an der Langen Nacht der Museen. Der Besucher erlebt verschiedene Grenzüberschreitungen – in Form von optischen Illusionen oder aufgehobenen physikalischen Grenzen.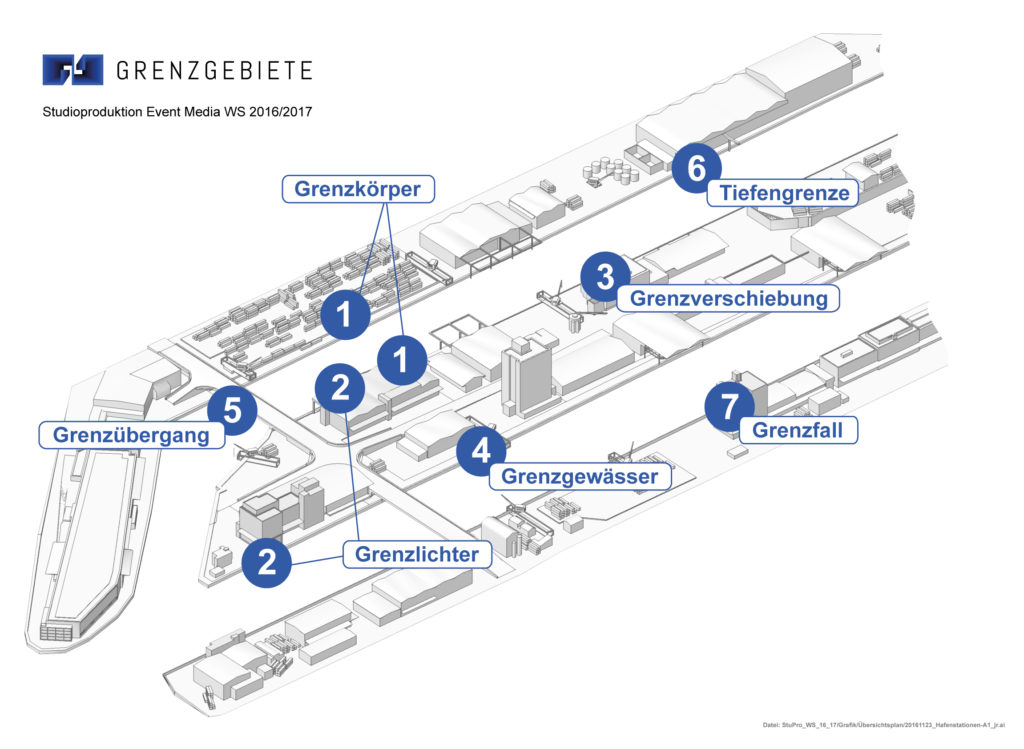 Die Stationen:
Station 1: Grenzkörper
Die interaktive Station "Grenzkörper" ermöglicht es dem Besucher nicht nur Zuschauer zu sein, sondern selbst Teil der Installation zu werden. Sobald er die Interaktionsfläche betritt, taucht er in eine reaktive Unterwasserwelt ein und nimmt Einfluss auf seine Umgebung. Die Station befindet sich im Wartebereich der ankommenden Besucher und bezieht den Containerterminal auf der gegenüberliegenden Seite des Hafenbecken 2 mit ein.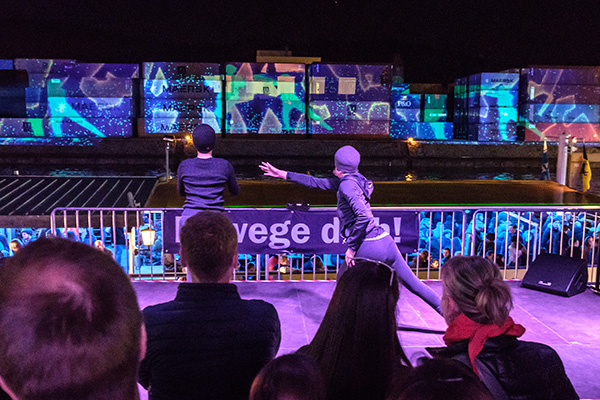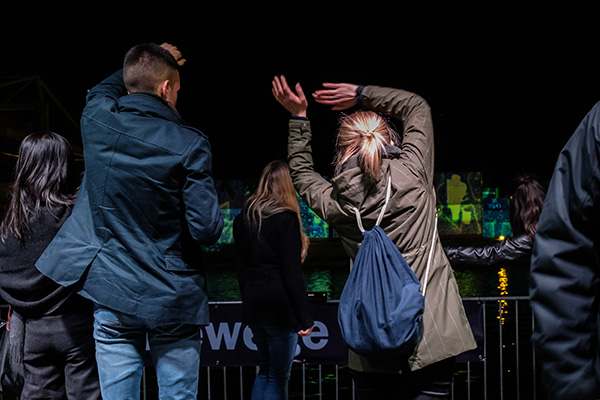 Photographie©Oliver Wendel
Der Spieler bewegt sich durch eine polygonale Wasserstruktur in der er durch Bewegung seiner Hände Strömungen erzeugen kann, welche sich farblich von der restlichen Struktur abheben. Weitere Elemente, wie Luftblasen, die sich durch die Szenerie bewegen werden von diesen Strömungen erfasst und ändern so die Richtung ihrer Bewegung. Zudem kann der Spieler Luftblasen einfangen und herumtragen, was es ihm ermöglicht eine Luftblase auf eine von ihm festgelegte Reise durch die Unterwasserwelt zu schicken. Untermalt wird das Geschehen von einem atmosphärischen Klangteppich, sowie akustischen Highlights, die die jeweiligen Interaktionen unterstützen.
Station 2: Grenzlichter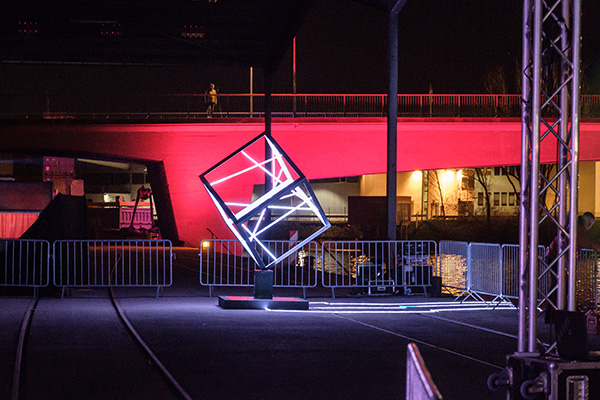 Photographie©Oliver Wendel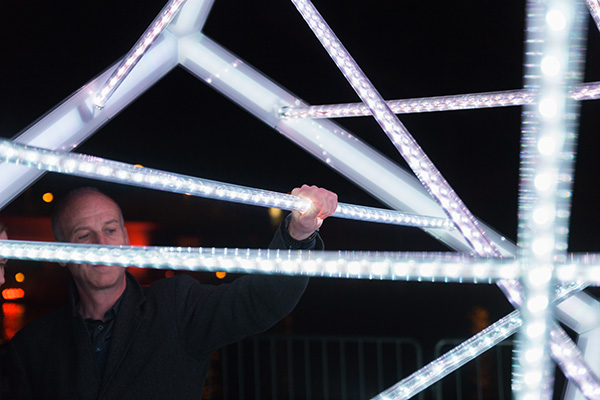 Photographie©Adrain Liedtke
"Grenzlichter" besteht aus zwei Installationen: das Grenzlicht "Land" im Besucherzentrum und das Grenzlicht "Wasser" auf der Bundeswasserstraße. Das "Grenzlicht" ist ein beleuchteter Kubus mit interaktiven Elementen. Durch die Interaktion der Besucher entsteht ein Lichtfluss zwischen den zwei "Grenzlichtern". Im Grenzlicht "Land" werden LED röhren durch eine leichtes Berühren aktiviert. Ein Ton und ein Lichtimpuls laufen durch den Kubus und verschwinden im Wasser. Während der Schifffahrt begegnet der Besucher dem Grenzlicht "Wasser". Hier läuft das Licht zu einem größeren Lichtkubus und im Schiff selbst wird der Ton hörbar. Sobald das Grenzlicht "Land" betätigt wird, leuchtet das Grenzlicht "Wasser" einige Zeit später simultan auf.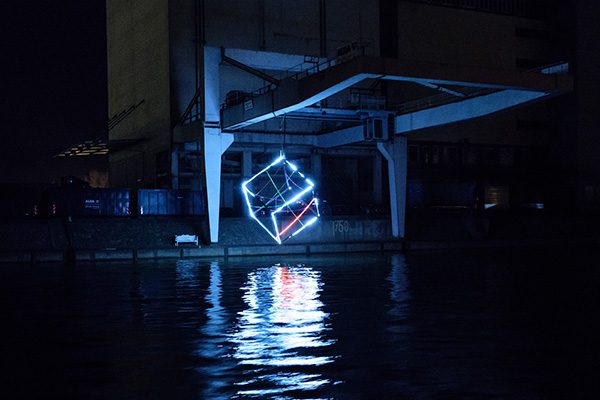 Photographie©Oliver Wendel
Station 3: Grenzverschiebung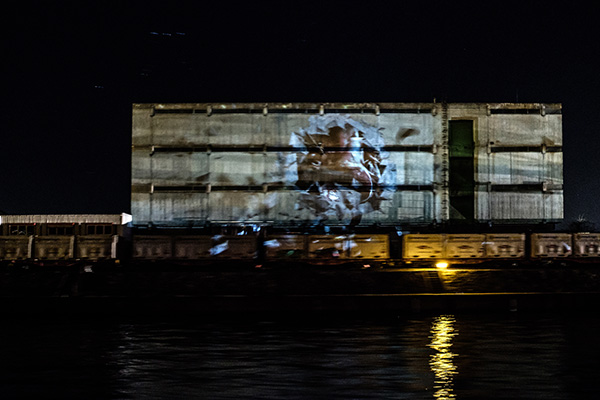 Photographie©Oliver Wendel
Eine Fassaden-Projektion zum Innenleben eines Gebäudes. Das interessierte uns immer schon: wie ein Gebäude sieht und fühlt.
Station 4: Grenzgewässer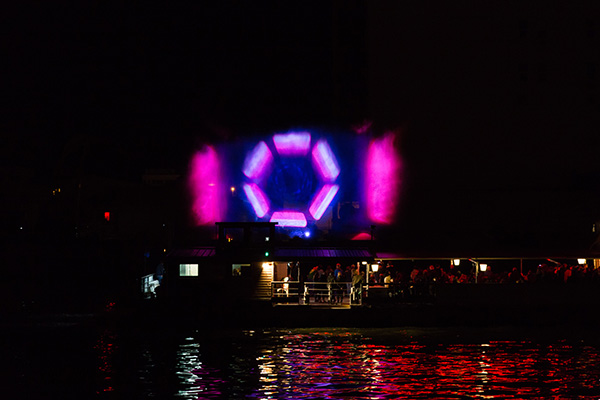 Photographie©Adrain Liedtke
Ein endlicher Strom aus Farben und Bewegung wird auf eine Wasserwand projiziert.
Station 5: Grenzübergang
Das Schiff fährt unter einer Brücke hindurch: Es überquert die Grenze vom Hafenbecken 1 zum Bundeswasserstrasse 1. Beim Durchfahren ändert sich die Lichtstimmung im Schiff, gleichzeitig wird der Grenzübergang an der Brücke markiert. Das Licht ändert sich simultan zum Innenlicht. Auf dem Boot wird mit Ton die Annäherung über Sensortechnik zu hören sein.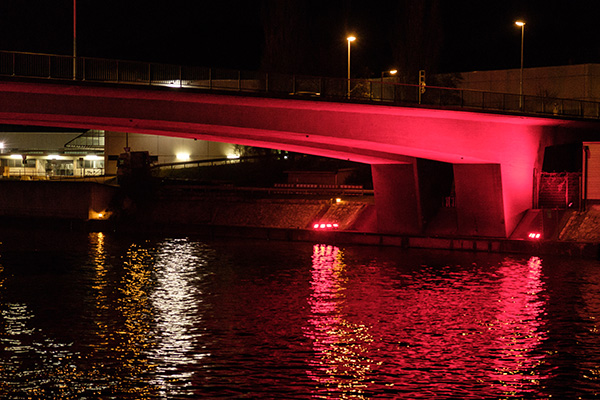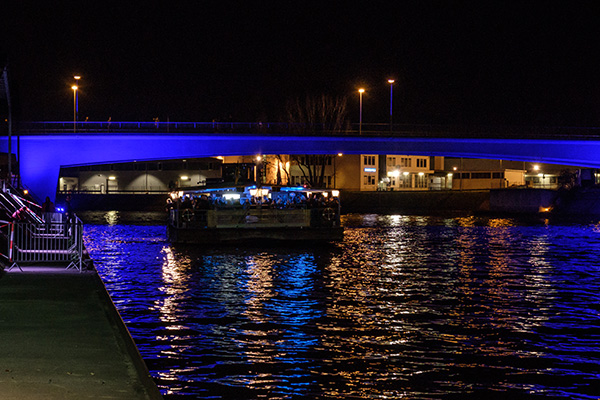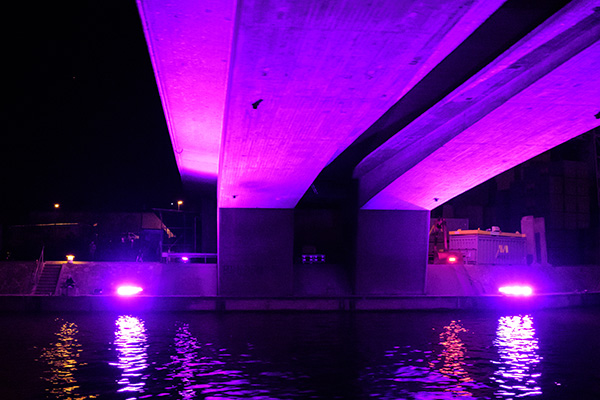 Photographie©Oliver Wendel
Station 6: Tiefengrenze
Die Idee der Station Tiefengrenze ist die Sicht des Besuchers umzukehren und dabei die Grenze der Wasseroberfläche zu überschreiten.
Der Besucher wird vom Schiff aus hinunter auf eine 240 Quadratmeter große Projektionsfläche schauen. Sie ist im Wasser eingeladen, bei der Fahrt wird einleichter Wellengang die Illusion einer anderen Unterwasserwelt unterstützen. Gezeigt wird deine fremde Unterwasserwelt, eine die nicht im Neckar zu erwarten ist. Da schwimmen Qualle, Häire, Riesenschildkröten, Tropische Fische oder Muränen durch das Wasser.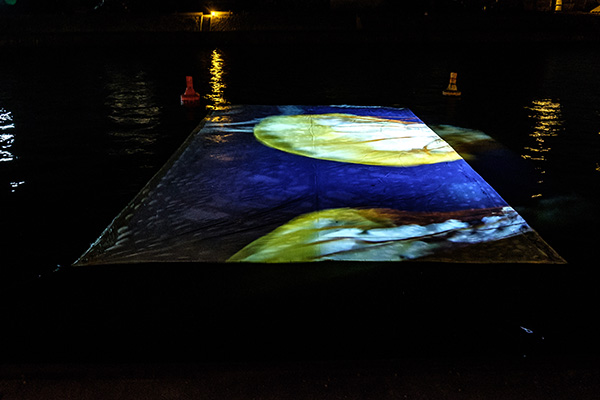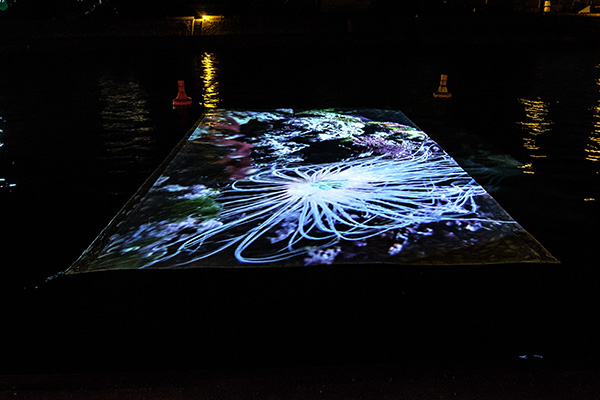 Photographie©Oliver Wendel
Station 7: Grenzfall
Hier werden die Grenzen der Schwerkraft überschritten. Dafür wird die Schwerkraft für das Element Wasser aufgehoben und umgekehrt. Es ist eine Fassadenprojektion.

Photographie©Oliver Wendel
Techniken:
Projektion
3x DLP_Panasonic PT-DZ21K W-UXGA + Optik (2,4-4,7)
Rechner/Peripherie:
2x Computer Soundkarten extern M-Audio Profire 2626, 3x Laptop
Software
Ableton Live Suite 9.7, Adobe CC, DaVinci Resolve 12, Houdini FX (Side FX, Kinect Runtime, Maxon Cinema 4d, Restart on Crash, Soundkarten-Treiber, VLC-Player, Voronoi-Algorithmus, VVVV, VVVV, DX11 Pointcloud Addon, Windows 10
Medientechnik/-steuerung
9x Shure ULX-D4DE K51 Doppelempfänger + 6 aktive Richtantennen, 5x Shure ULX-D1 K51 Taschensender + Klinkenadapter + Stativ + Batterien, Strom/XLR/BNC-Verkabelung
Audio
26x FOHHN AL-10 ultrakompaktes Design-Lautsprechersystem, XLR-Adapter, Manfrotto-Superklemmen, Flugrahmen (FOHHN), 4x FOHHN AS-10 Bassboxen, 4x Powersoft DIGAM M28Q DSP 4-Kanalendstufe in Rack, Motu UltraLite USB Audiointerface
Lichttechnik
LED-Scheinwerfer LITECRAFT LED PAR AT10 (18x10W), MA Lightcommander (12/2)
Team:
Bildergalerie:
| Studiengang | Vorname | Nachname |
| --- | --- | --- |
| AMB | Aline | Müller |
| AMB | Bodo | Lohr |
| AMB | Dorian | Sorg |
| AMB | Elena | Kalinka |
| AMB | Levin | Frenzel |
| AMB | Lucas | Aue |
| AMB | Marcus | Streiter |
| AMB | Tim | Dieckmann |
| AMB | Mareike | Maass - Rebholz |
| MWB | Luca | Jungemann |
| MWB | Michaela Anna | Hönig |
| Tutor | Johannes | Raff |
| IT Beratung | Nadja | Weber |
Photos der Langen Nacht der Museen
Bildergalerie vom Photographen Oliver Wendel:
Bildergalerie vom Photographen Adrian Liedtke:
Bildergalerie von Photographie Friederike Werhahn:
Sponsoren
Bildergalerie: