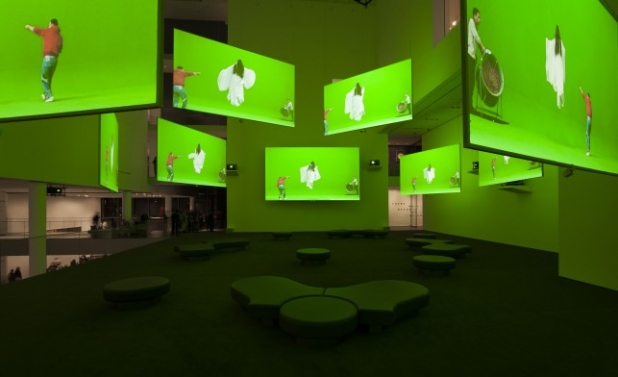 Installation view of 
Isaac Julien: Ten Thousand Waves
 at The Museum of Modern Art. Photo: Jonathan Muzikar
Isaac Julien: Ten Thousand Waves_ November 25, 2013–February 17, 2014
The Donald B. and Catherine C. Marron Atrium, 2. Etage I'm MOMANew York
Ten Thousand Waves (2010) wird als immersive Projektion vom MOMA New York beworben. Auf 9 doppelseitigen Projektionsleinwänden werden Besucherbewegungen im Raum abgebildet. Die Installation wurde sowohl im alten als auch modernen Shanghai installiert. Immersivität ist ein gern gesehener Begriff. Die unmittelbare Einbeziehung, das in einer anderen Sache aufgehen, Selbstvergessenheit und Eintauchen in das Andere ist damit gemeint. Ist diese Installation visuell immersiv?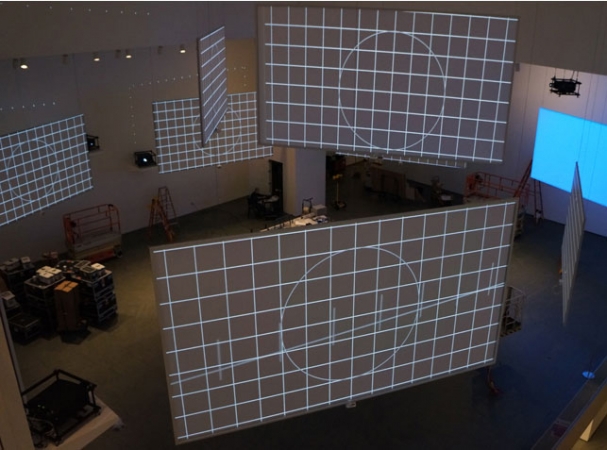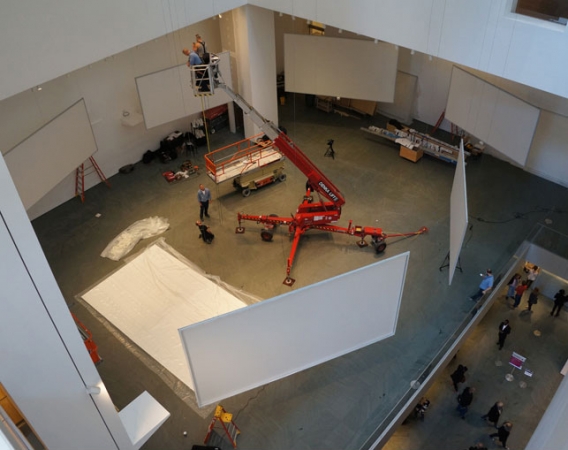 Installation of Isaac Julien's Ten Thousand Waves at MoMA, November, 2013. Photos: Ashley Young
Mit einprägsamen Bildern und grossen Sounds? Ist die Installation vielleicht sogar technisch immersiv? Mit Bildern in real time, vor Ort oder woanders eingefangen und dann gezeigt? Bilder sind nicht einfach. Gerade die Zufälligen brechen einer Installation möglicherweise das Genick.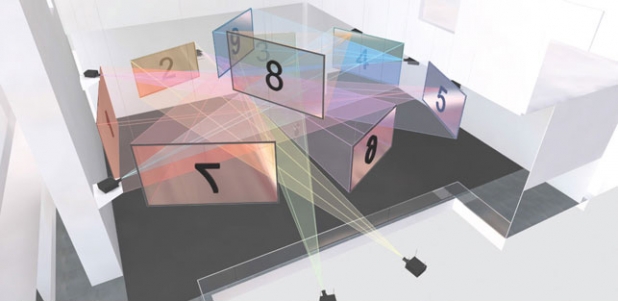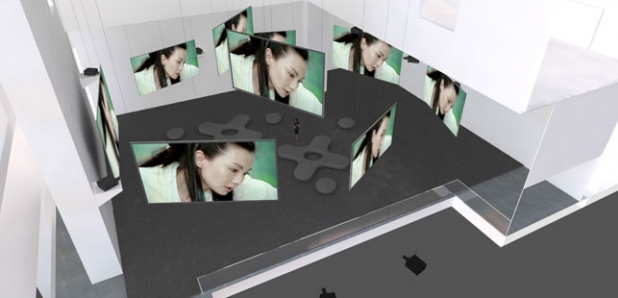 Previsualization of Isaac Julien's Ten Thousand Waves installation at MoMA. Digital renderings by Aaron Harrow
Hier hat eine Auswahl und Postproduction stattgefunden. Die schiere Faszination an der Menge der Bilder und an der doppelseitigen Projektion wird demonstriert. Und das ist es was die Grossartigkeit unterstreicht. Als nächstes stellt sich die Frage nach einer Geschichte. Werden wir mit Assoziationen unserer eigener Gedankenwelt überlassen? Oder wird eine Geschichte deutlich gemacht? Stefan Grandinetti, Professor für Kinematographie an der Stuttgarter Hochschule der Medien hat sie mir ans Herz gelegt. Er hat sie gesehen. Ich war in Berlin. Vielleicht muss ich ihm meine Fragen stellen. 
Isaac Julien. 
Ten Thousand Waves
. 2010. Nine-channel video installation (color, sound). 49:41 min. The Michael H. Dunn Memorial Fund. The Museum of Modern Art, New York. Photo: Jonathan Muzikar.
Die Musik kommt von den Londoner Musikern Jah Wobble und dem Chinese Dub Orchestra. Sie basiert auf der Komposition des Spanischen klassischen Komponisten  Maria de Alvear.
Beitrag von Ursula Drees
Comments are closed.