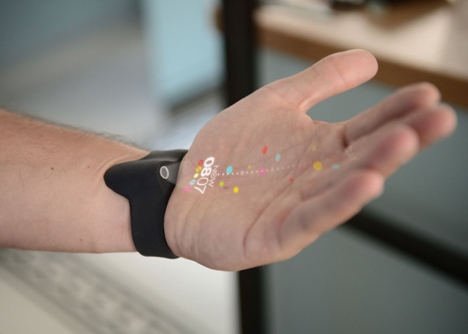 ©TOR DAL
Der Israelische Designer Tor Dal hat eine Reihe von Gadgets gemacht, die mit Hilfe der social networks die nahe Zukunft voraussagen. Und dieses Wissen wird dann entsprechend in den persönlichen Tagesplan und -Ablauf eingebunden. Zu den Gedgets gehört witzigerweise das persönliche Horoskop, aber auch Wahrscheinlichkeitsberechnungen für den Besuchs des Fitnessstudios, Freundbesuche oder Einkaufen zu gehen. Oder sogar zur Stimmung der Partners bei der Rückkehr nach dem Arbeitstag. Das Konzept arbeitet zweigleisig. Es beginnt mit dem Downloaden einer App auf das Smartphone. Diese App durchforstet soziale Netzwerke nach Informationen, die den Betreiber in irgendeiner Art und Weise betreffen könnten. Ein Algorithmus ermittelt Regelmässigkeiten oder Verhaltensmuster und leitet die Vorhersage ab. Je mehr der Betreiber hinzufügt desto intelligenter kann die Applikation arbeiten. Dazu gehören natürlich auch Kalender, Kreditkarteninfos, Google, Apple, Facebook und was sonst noch so drin steckt.
"When it identifies a predictable action, a recommended response for solving the problem or enhancing the experience is calculated and presented," erklärt Dor Tal.
Der zweite Teil des Projekts wurde Pedictables (Vorhersagen) genannt. Zwei Devices, Geräte die die Daten dem Benutzer präsentieren. Das erste Gerät ist ein Pico Projector. Auf einem graphischen Zeitstrahl werden eine Anzahl von runden Aktivitätenkreise abbildet.  Die Farben geben Auskunft über die zeitliche Einordnung. Passiert etwas sehr bald oder darf noch ein bisschen Zeit verstreichen.  Rot bedeutet Aktion, Grün: easy going.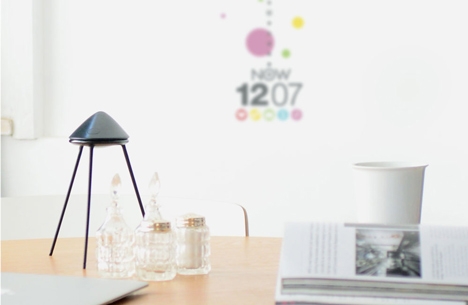 ©TOR DAL
Wenn der Benutzer sich aus dem Haus begibt kann eine Handprojektion mit der Smartwatch diese Funktionen abbilden. Mit Gestensteuerung wird das Display kontrolliert.
"One interesting aspect of the interaction, similar to what happens in the Back to the Future films, is that the predictions continuously change as the user acts and reacts in present time," so Tal.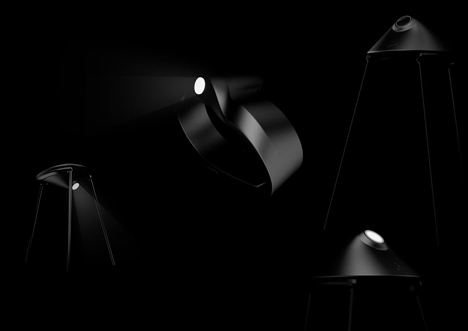 ©TOR DAL
Das Projekt war Teil des Graduation Programms der Bezalel Academy of Arts and Design in Jerusalem. Es lief unter dem Titel FUTUR CONTROL.  "From the movement of the stars to modern technology, man has searched for patterns that can indicate the imminent future," so Tal. "The biggest challenge of this project is to create the forecasting algorithms, but I believe this will happen sooner than expected."
Zum Movie. Die Musik und die Geschichte könnten gar nicht niedlicher sein. Obwohl wir die BRAVE NEW WORLD nur einen Wimpernschlag entfernt auf der Schulter sitzen haben. Die Zukunft soll einsichtig werden und was soll das dann auf lange Sicht? Das Produkt begeistert von der technischen und gestalterischen Seite das sei festgestellt.
Beitrag von Ursula Drees
Comments are closed.