HighSpeed PhotoBooth from Pablo Garcia on Vimeo.
Diese Photobooth macht aus 3 Sekunden 1000 Bilder. Die Verlängerung der Zeit, die Darstellung einer Bewegung macht diese Fotobooth zu einem magischen Erlebnis. Nicht umsonst ist der Aufführungsort gleich ein Kircheninnenraum geworden. Die Menschen werden festgehalten und bewegen sich so langsam dass wir als Betrachter Zeit und Individuum erkennen. Hier wird man real und nicht nur zu einem Special Effekt. Die Geschwindigkeit gibt Raum zum Innehalten und das tun wir auch.
HighSpeed PhotoBooth Highlights from Pablo Garcia on Vimeo.
Nach der Aufnahme der 3 Sekunden zieht eine integrierte Software den Video auf die Länge einer Minute, eine kleine Aktivität wird extrem verlangsamt und jeder Zuschauen erkennt die vielen, sonst übersehenen Bewegungsabschnitte. Eine Art moderner Muybridge. Der video selbst wird automatisch auf den You Tube Channel des Kunstfestivals hochgeladen und für alle zugänglich.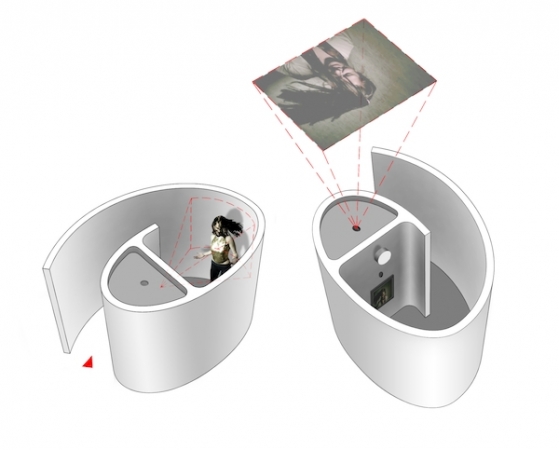 Team:
Booth Design: Pablo Garcia and Spike Wolff
Software/Hardware Design: Riley Harmon and Dan Wilcox
Booth Construction: Kyle Rood
Camera Provided by: Matt Kearney of Fastec Imaging
Lighting Provided by: Gil Penderly of Visual Instrumentation Corp
Support by
The Jill Watson Family Foundation
Studio for Creative Inquiry [Carnegie Mellon University, Pittsburgh]
Comments are closed.