Apparition ist eine außergewöhnliche Tanz- und Medienperformance, deren ästhetisches Potenzial daraus entsteht, dass interaktive Technologien in eine Bühnenperformance integriert werden. Das Projekt wurde von dem in Wien lebenden Komponisten und Medienkünstler Klaus Obermaier in Zusammenarbeit mit dem Ars Electronica Futurelab entwickelt.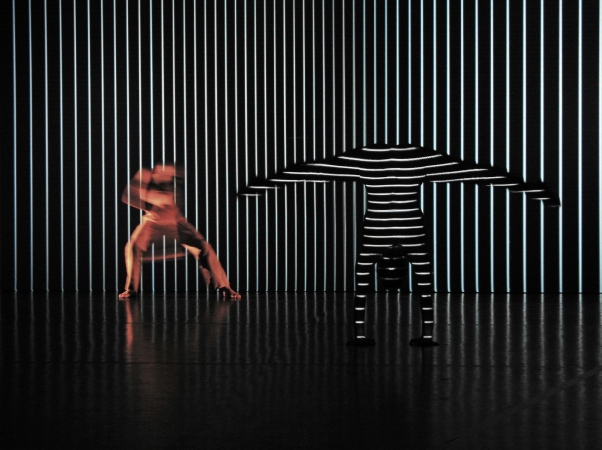 © Apparition von Klaus Obermaier und das Ars Electronica Futurelab
Dem internationalen Team von Klaus Obermaier gehören u. a. die Londoner Tanzkünstler Robert Tannion und Desireé Kongerød an, sowie die Interaction-Designer und Programmierer Christopher Lindinger, Robert Praxmarer und Peter Brandl vom Ars Electronica Futurelab. Das Analyse- und Motion-Tracking-System stammt vom Japaner Hirokazu Kato. (Text von der Webste von Klausobermaier auf http://www.exile.at/apparition/background_de.html)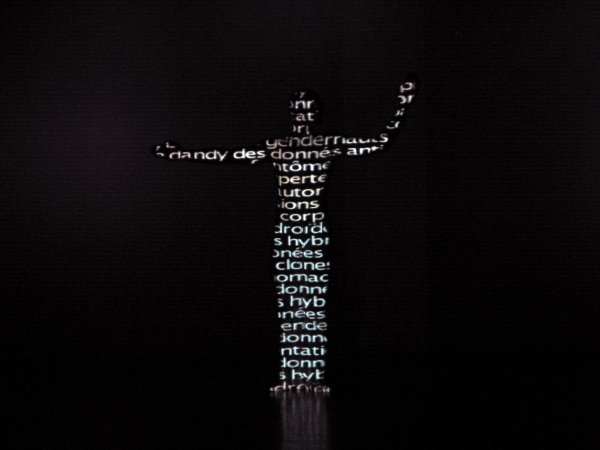 © Apparition von Klaus Obermaier und das Ars Electronica Futurelab
Das Mapping auf den bewegten Körper der mit dem Hintergrund verschmelzt oder wieder hervortritt wird durch das Motion Trecking möglich. die Präzision und ästhetische Übereinstimmung mit Hell und Dunkel, mit Mustern und Verschwimmen von Form Grund zeigt das Potential mit scheinbar wenig bildgestalterischen Elementen sehenswerte Formen und Illusionen zu erzeugen.
concept, artistic direction, music and visuals:
Klaus Obermaier (AT)
Choreography, performance:
APPARITION II:
Desirée Kongerød (GB/NO), Matthew Smith (NZ)
APPARITION I:
Robert Tannion (GB/AU), Desirée Kongerød
Interactive design and technical development:
Ars Electronica Futurelab:
Peter Brandl (AT), Jing He (US/CN),
Christopher Lindinger (AT)
Hirokazu Kato (JP) – Osaka University
Dramaturgical support:
Scott deLahunta (US/NL)
Commissioned by:
Ars Electronica Festival, Linz/Austria
South Bank Centre London, Great Britain
Singapore Arts Festival
Supported by European Commission-culture 2000
APPARITION II by Leisure and Cultural Services
Departmentat Kwai Tsing Theatre, Hong Kong / China
Body projection technology by
buero+staubach Berlin, with André Bernhardt
Comments are closed.