Ich bin letzte Woche schon auf das Projekt The Obliteration Room von Yayoi Kusama eingegangen: "Wenn weisse Räume auf Kinder treffen." Die TATE Modern wird vom 9. Februar bis zum 5. Juni der Künstlerin eine Retrospektive widmen.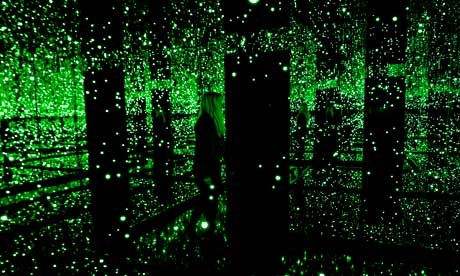 Yayoi Kusama's Infinity Mirrored Room – Filled with the Brilliance of Life. Photograph©Sarah Lee für den Guardian
Yayoi Kusama gibt es schon lange, genauer seit 1929. Schon in den 60iger Jahren als sie in New York lebte und arbeitete hatte sie mit den damaligen bedeutenden Künstlern engen Kontakt. Georgia O'Keeffe, Lucio Fontana,  Donald Judd und Joseph Cornell waren ihre damaligen Weggefährten. Ende der 70iger Jahre war sie bekannter als Andy Warhol. Ihre Rückkehr nach Japan entschleunigte ihren Bekanntheitsgrad, trotzdem wurde sie die erste Frau die Japan auf der Biennale 1993 in Venedig vertrat.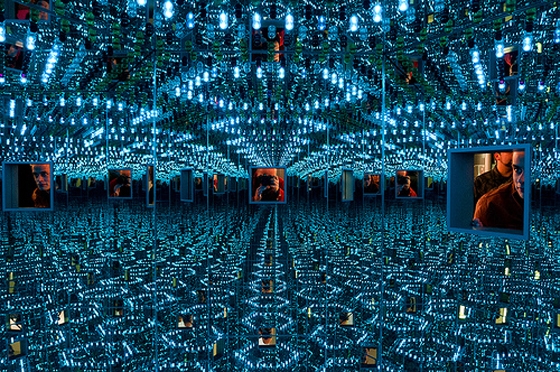 entnommen aus Maggi' blog: The infinity room 
Sie arbeitet unbändig und in vielen Sparten, als Installations Künstlerin, Mode Designerin, Kunst Händlerin, Bildhauerin, Pianistin, Dichterin und Schriftstellerin  (mindestens 18 Romane, und ihre Autobiographie).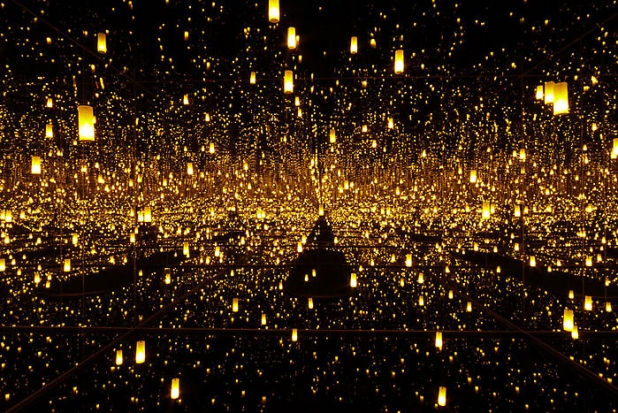 Infinity Mirrored Rooms im Centre Pompidou Ende 2011.  Das Bild wurde vom Blog © 2010 Union Street entnommen.
Auf Bildern sehen die Arbeiten leicht verträglich aus, wenn man aber direkt in der Punkteorgie steht, kann es anstrengend werden. Sie ist eine exzessive, getriebene Künstlerin, die ihrem Wahnsinn durch Arbeit entkommt. Aber es bleibt eine Gradwanderung. Sie ist unauffällig, lebt und arbeitet in ihrem Atelier. Auf der anderen Strassenseite ist die Wohnung, eine psychiatrische Klinik, in die sich sich 1977 selbst einwies.
Comments are closed.