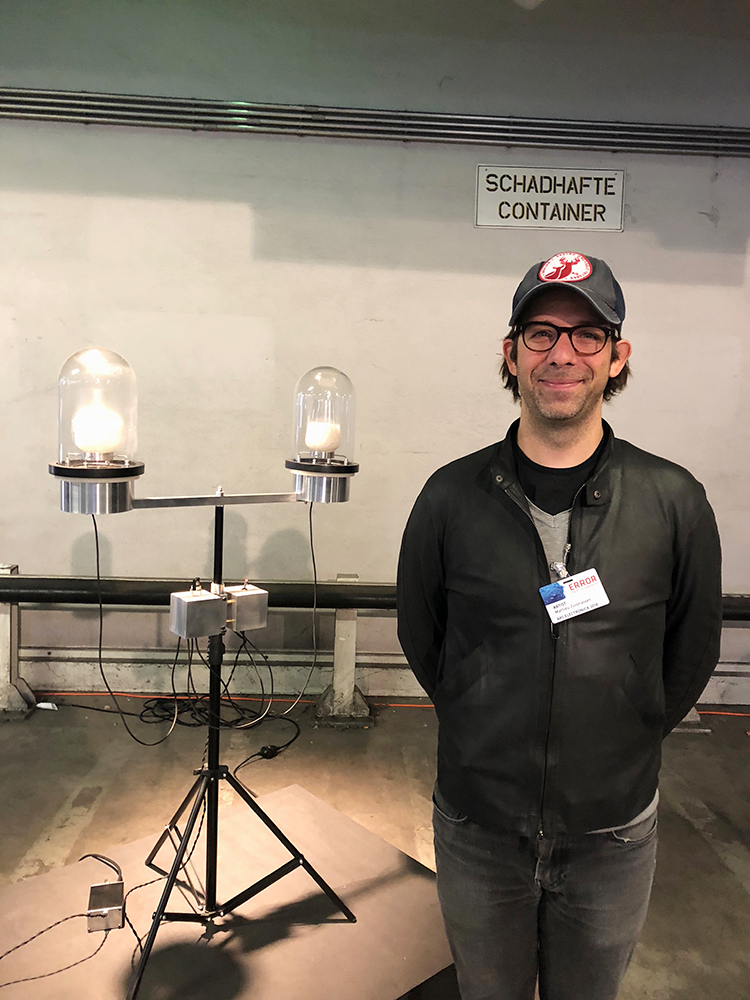 Mathieu Zurstrassen (BE) standing next to "I love you_I hate you TDS" ©photographer MvT
Der japanische Parawissenschaftler und Alternativmediziner Dr. Masaru Emoto "wies nach", (dieser Nachweis ist nicht bestätigt worden), dass Wasser ein Erinnerungsvermögen besitzt und auf Gedanken reagiert. Dabei hat Emoto in einer Vielzahl von Versuchen ermittelt, dass Wasser auf Empfindungen reagiert und in Folge die eigene kristalline Struktur verändert.
Eine weitere vom selbst ernannten Doktor durchgeführte Versuchsreihe bezog sich auf die Empfindlichkeit von Reis. Es wurde um 1980 eingeleitet und stellt zwei identisch grosse, mit einer exakten Reismenge gefüllten Form dar. Der einzige Unterschied besteht in der unterschiedlichen Beschriftung auf den jeweils gleichen Aufklebern. Ein Aufkleber wurde mit "DANKE" beschriftet, der andere mit "Du Idiot". Emoto lies täglich Schulkinder die Worte sprechen und siehe da, nach einigen Wochen färbte sich der "Du Idiot" Reis schwarz, derweil der "Danke" Reis seine ursprüngliche Farbe behielt. Dies sollte ein erneuter Nachweis für die emotionale Beteiligung von Materie sein, egal ob Wasser, Reis oder andere Formen von physikalischer Dinglichkeit.
Die parawissenschaftliche Community jubiliert über diesen Nachweis. Und gleichzeitig erzürnt es die Forschung. Deshalb haben einige das Experiment erneut durch geführt und stets erfolglos. So hat Carrie Poppy das Ganze mit 4 Gläsern ausprobiert.
Ein Glas wurde mit "Thank You", ein anderes mit "You are an Idiot", ein weiteres mit "Michelle Bachmann"[1]und das letzte gar nicht beschriftet. Das dritte Glas wurde durch tägliche Tea Party Belästigungen besprochen. Am Ende des Monats hatte der Reis in allen vier Gläsern die gleiche Entwicklung vollzogen und unterschied sich nicht gravierend von einander.
Sie kommentiert ihr experiment: "I can't help but wonder if the well-meaning re-creators of this experiment on the internet didn't help their rice along, exposing the neglected or hated rice to more air, changing the jars around to put them in different temperature or humidity conditions, or performing other tricks in an effort to support a well-intended but ultimately self-evident point: that being ignored or belittled hurts."
Dieses Experiment stellt die Grundlage für das Kunstwerk "I love you_I hate you TDS" des belgischen Künstlers Mathieu Zurstrassen dar. TDS steht für Trump Derangement Syndrome. Es ist ein impartiality bot. Bei dieser Gattungseinordnung darf sich die Gemeinde der freidenkenden und wissenschaftsfreundlichen Geister freuen, endlich ein bot ohne Meinung.
Die Installation steht im 1. Stock der POSTCITY Ausstellungsfläche und unterliegt dem Motto "Error, Fake and Faliure".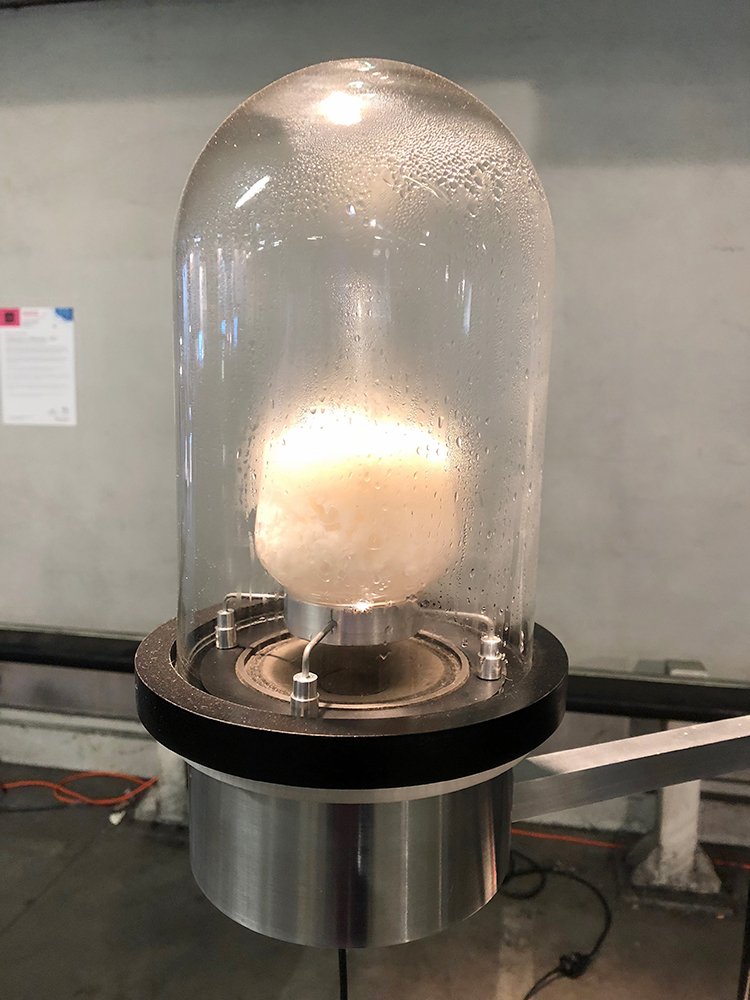 Reisbirne©photographer MvT
Das Kunstwerk besteht aus drei sichtbaren Komponenten. Die erste Komponente ist ein Stativ. Die zweite Komponente sind zwei Gläser, die mit einer identischen Menge und der gleichen Reisart gefüllt sind. Sie stehen auf Lautsprechern. Diese Reisgläser werden durch je zwei, höher gestreckten Glasglocken von den Zuschauern abgeschirmt. Diese Glaskonstruktion erinnert ein wenig an gestreckte Käseglocken oder an Glühbirnen, alias Reisbirnen. Von diesen gläsernen Reisbirnen, so wollen wir es nennen, gibt es ,wie bereits erklärt, zwei. Sie sind auf einer Höhe und durch eine schmale Stahlstrebe verbunden. Es sieht aus, als sei es eine Waage.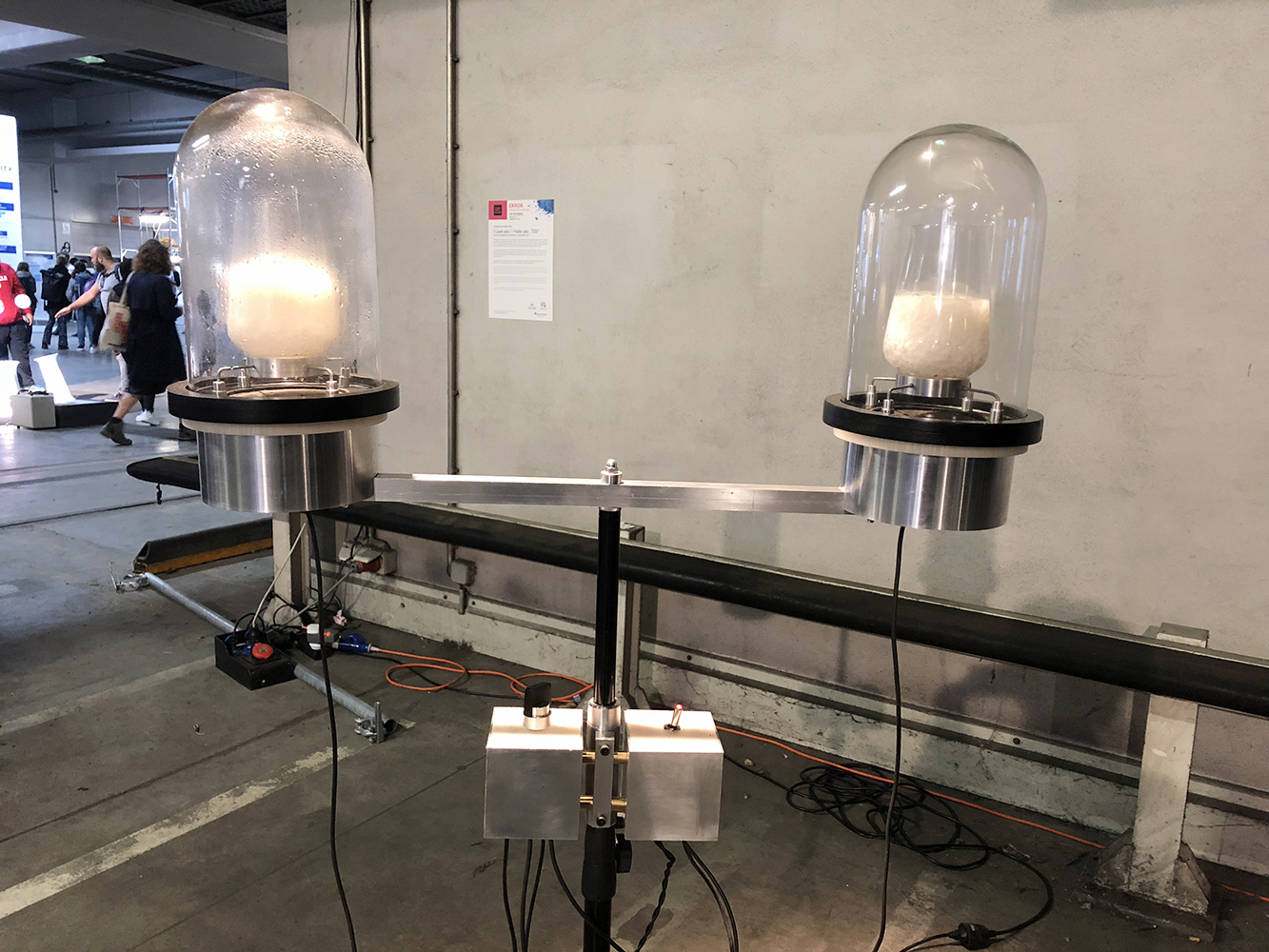 Waage ©photographer MvT
Die dritte Komponente sind Kabel und Kästen, für digitale Applikationen. An dem Stativ angebracht befinden sich zwei vielleicht 8 x 8 cm große quadratische Kästen aus denen verschiedenste Kabel führen. Einige führen zu den Kästen, andere führen zu den Glasbirnen. Es handelt sich um Stromzufuhr und Lautsprecherkabel von Micro-controller zu Reisbirnenkonstruktion.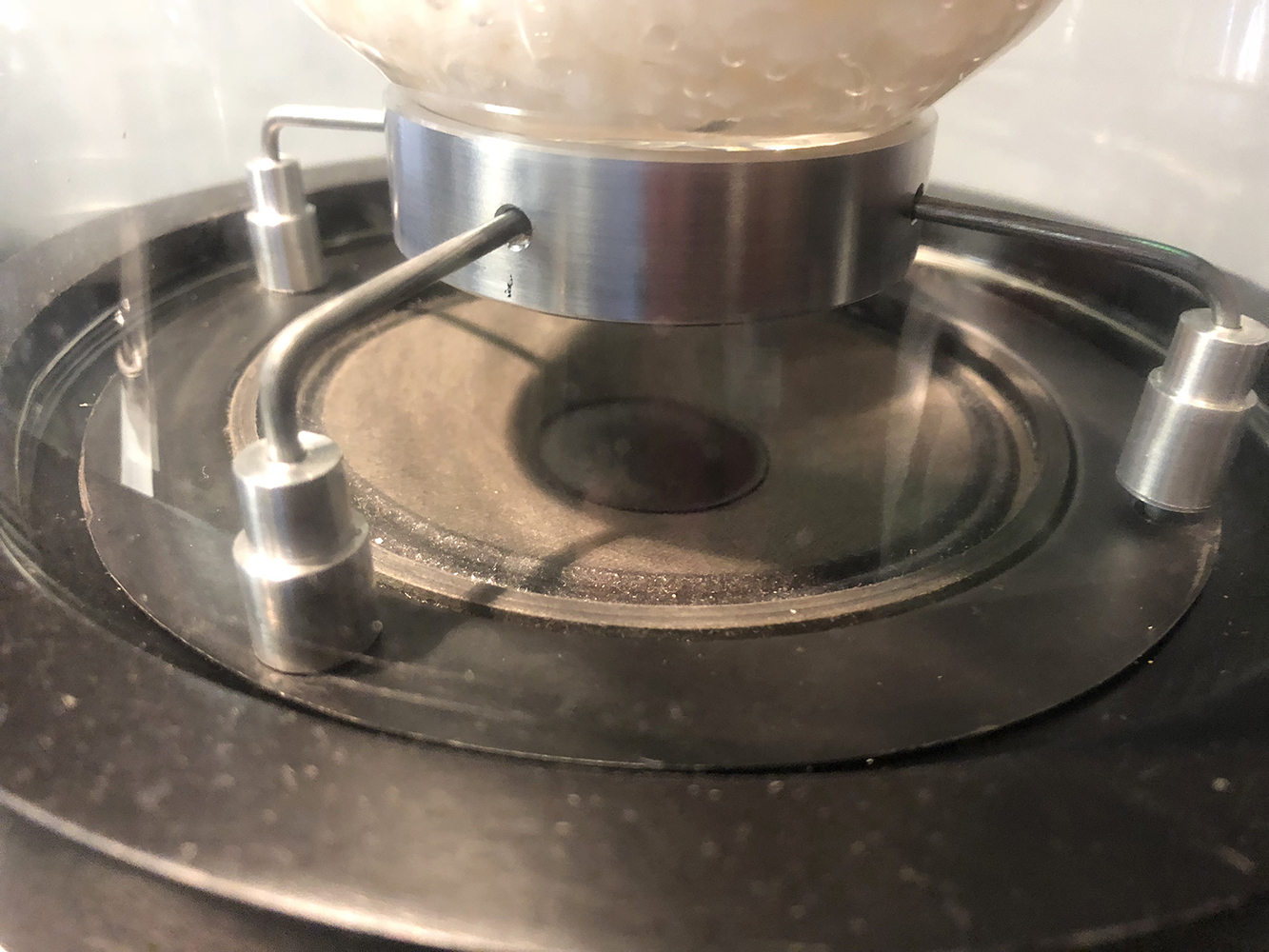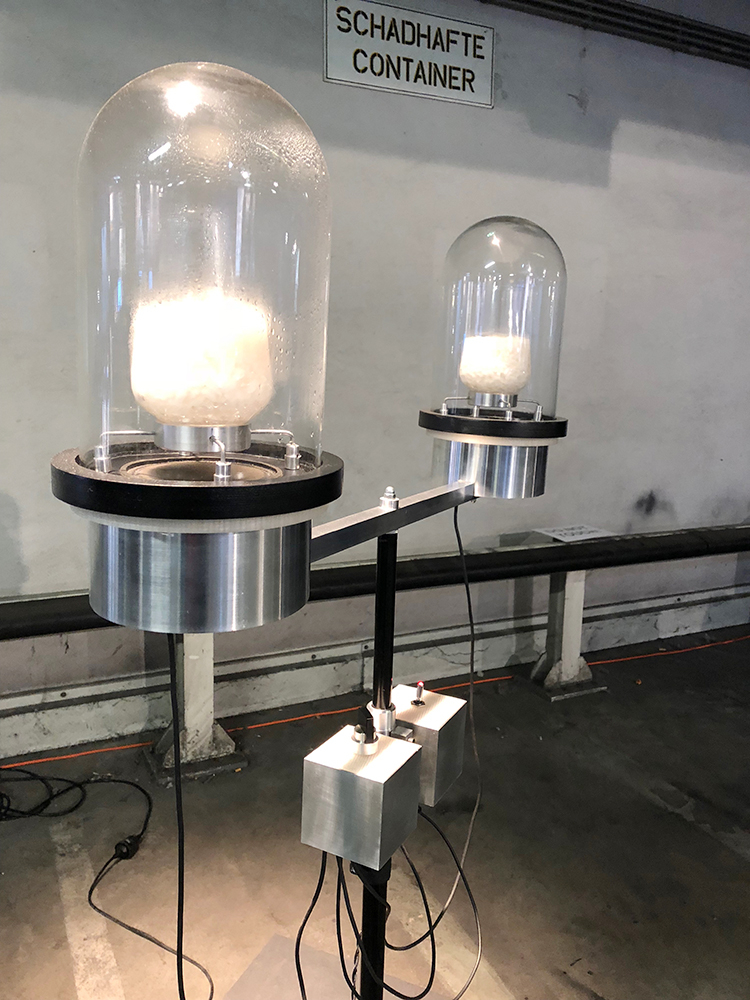 Kunstwerk Details ©photographer MvT
Es werden verschiedenste Trump Zitate herausfiltert, das sind die weniger guten Mitteilungen und aus einem "LoveQuote" Twitter account positive Botschaften weiter gegeben. Alle 25 Sekunden trägt eine monotone, neutrale Computerstimme diese Nachrichten den Reisgläsern vor. Dieses Kunstwerk ist ein stilles nicht besonders großes Kunstwerk. Es ist nicht marktschreierisch. Das einzige was erhöht, ist der Podest auf dem es steht.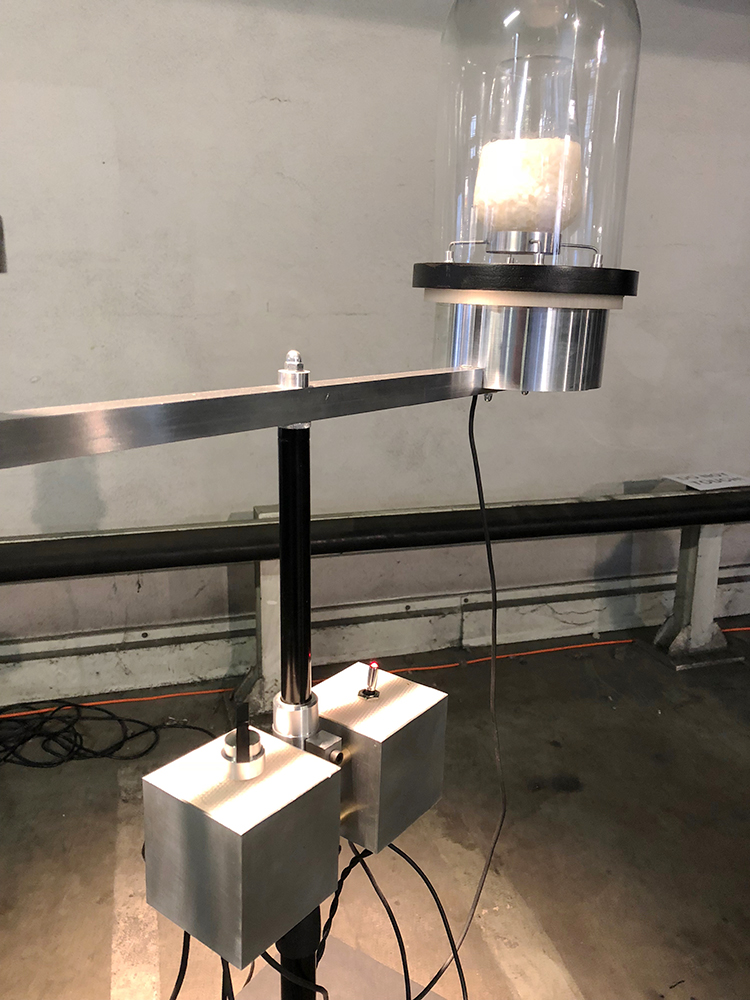 ©photographer MvT
Der Künstler ist anwesend und hat Zeit für ein Interview.
Question:" Do you think the tonality of the voice has any impact on the reaction of the rice?"
Artist: "Hmm I could tell you my point of view if this system is working or not. I am bit skeptical… about everything I make… it is a setup. I am trying to talk about something that is not actually visible."
(Pause followed by a long stretched ahhhhm).
"It could work. It is closely related to the subject of faith. What do you believe in? And it could be… couldn't it? May be the rice will turn black. Perhaps it is because a small bacteria, an invisible bacteria that I have in my hand, may-be there is a resistance there? May be there is a heater there that makes the rice sweat, may be nothing will happen. It lasts just for two days now. We don't know. It is speculation". (artist smiles)
"We could go on for hours. Is the digital voice doing something? For me it is not the matter of the piece. The computer voice is completely neutral."
Interviewer: "One component has crucially changed. In the original experiment children read the messages with their intonation and tonality. And here it is the neutral computer reading the messages."
Artist: "Yes indeed. But think about it this way: the voice is neutral but on the same token it is more scientific. What I am trying to say, and I really like it when people start talking and discussing with me about that, is I am from a scientific background, so I am willing to create an environment of scientific value. The voice of the computer supports this scientific value."
Interviewer: "Since it is a scientific experiment. How about the rice?"
Artist: "Oh yes it is beautiful venetian rice. Great rice."
Interviewer: "Did you try different types of rice?"
Artist: "May be I did. It is all about faith. Why should I be trusted?"
Both laughing.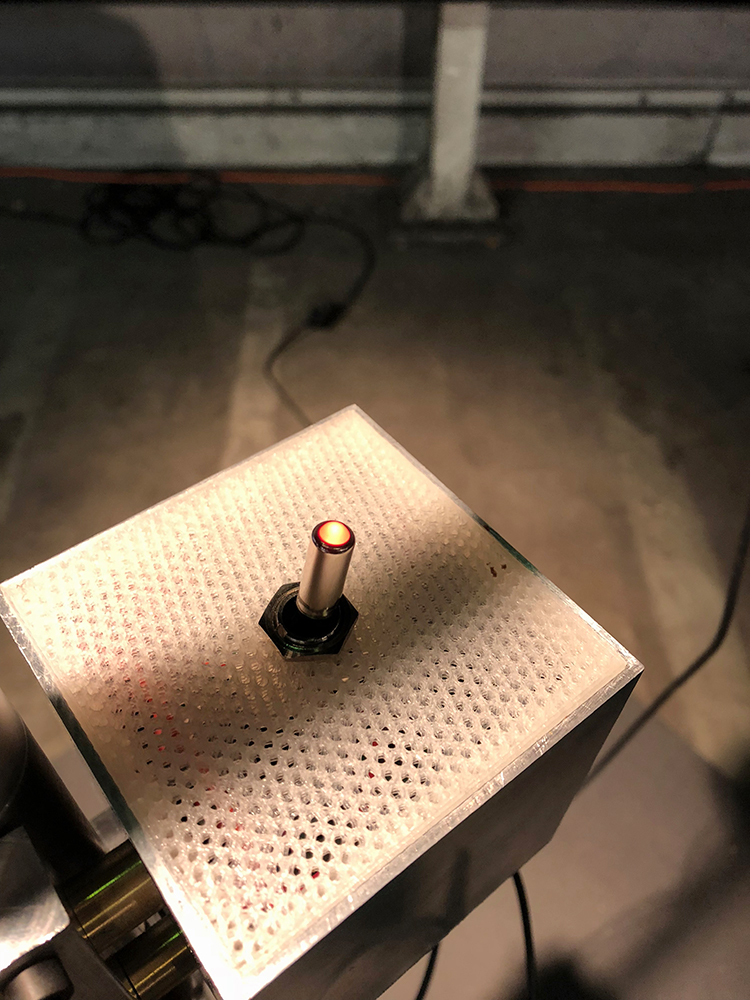 ©photographer MvT
Interviewer: "I would like to end the interview with a little fun and playful game. I am asking you a term and you are telling me what you think about it."
"Authenticity of media"
Artist: "This is what this work is trying to talk about. There is a lot of information online, it is difficult to verify this information. There is some fear. Nowadays information is going too fast. ..so fast and it is impossible to verify anything. Therefore I think it is really easy to control, to gain information from people. And this is media. And there is a lot of crab, a lot of irrelevant available."
Interviewer: "Artificial Intelligence"
Pause…..
Artist: "Wow…future. We are not there jet. But it is dangerous. I fear what mean people can do about it. This piece also is talking about artificial intelligence in a primitive way though. The rice could be the intelligence." (smile)
Interviewer: "Algorithm"
Pause…
Artist: "The answer to everything."
Interviewer: "Self-control"
Pause…..
Artist: "By whom? Self-control…. we all have our point of view. By whom. I can tell you about myself. I am trying to share and let people approach the piece . I am not trying to direct too much."
Interviewer: "Thank you so much".
Das Interview wurde direkt auf der Ars Electronica 2018 geführt. Wir danken dem Künstler für seine wunderbaren Antworten und seine verspielte geistige Weitläufigkeit.
Dr. Margarete von Trifft. (MvT in short)
[1]Anmerkung der Autorin. Wir erinnern uns an die US-Amerikanische Politikerin der Republikanischen Partei, die der Tea Party Bewegung sehr nah stand und die in der parteiinternen Auswahl als Präsidentschaftskandidatin 2012 antrat und sich durch herausragende Vereinfachungen, populistischer Argumentation und erschütternder Bildungsfremde hervortat. Zu dieser Zeit konnte sich niemand eine Erhöhung dieser charakterlichen Qualitäten vorstellen, jetzt jedoch gibt es den Beweis in Donald Trump, dass auch das Unvorstellbare stets eintreffen kann.
Comments are closed.