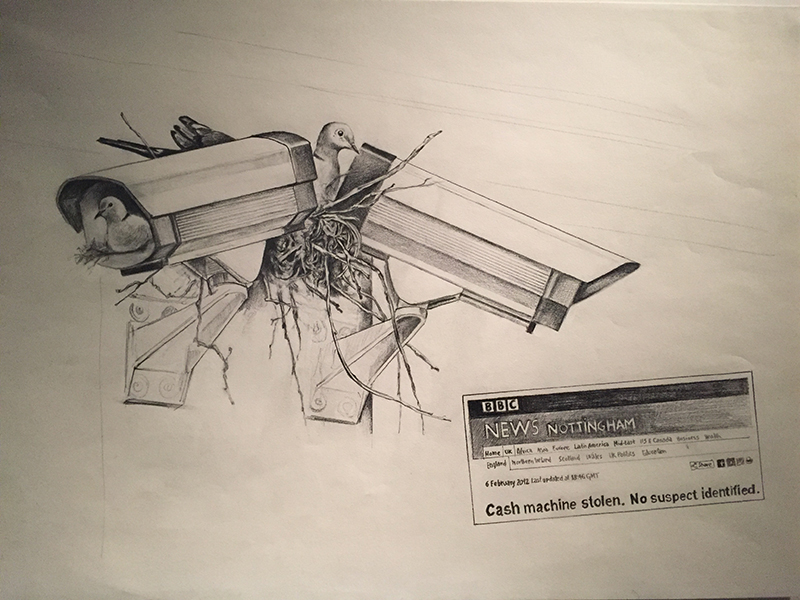 Die schöne detaillierte Bleistiftzeichnung von zwei Tauben, die ihr Nest an etwas veralteten Überwachungskameras aufgeschlagen haben. Da scheint es gemütlich zu sein. Am rechten Bildrand eine Notiz von BBC.  Ein Geldautomat wurde gestohlen und kein Individuum konnte identifiziert werden. Warum nur, fragt sich der Betrachter. Weil die Tauben ihren Job schludrig gemacht haben? Weil sie just in dem Moment anderes zu tun hatten? Vielleicht Zweige zu richten oder sich umzudrehen. Vielleicht fliegen oder Futter Suche? Wäre alles möglich. Oder haben die Tauben gar nichts mit dem Diebstahl zu tun? Bilden die Verankerungen der Überwachungskameras tolle Verstrebungen für Nistplätze. Ist das ein Zufall?
Natürlich, so stellen wir uns vor, Vögel und Tauben haben einen viel größeren Sichtradius, dann können sie die Vogelperspektive wunderbar einnehmen, haben einen Überblick, die gehören dahin. Aber warum sollte nicht der Zufall die wilden Tauben an diesen Platz gebracht haben? Es ist ein lachhaftes Bild.  Die zwei Vögelchen sind harmlos und familiär, sie leben. Der ursprüngliche Zweck der Überwachungskameras, die Überwachung ist ihnen egal. Hier ist es schön, hier bleiben wir. Und ungestört ist es zudem.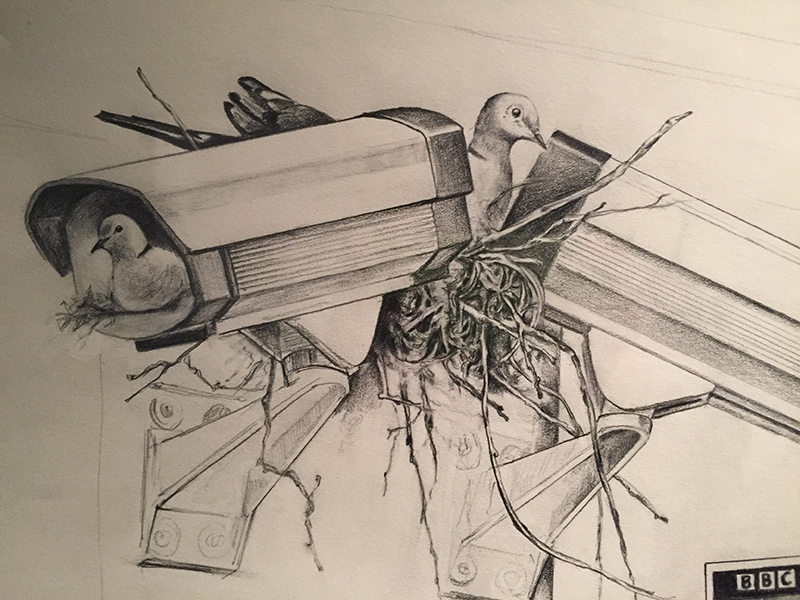 Anca Benera & Arnold Estefan, Urban Wildlife: The Human Influence on the Social Life of Birds, 2013
Comments are closed.