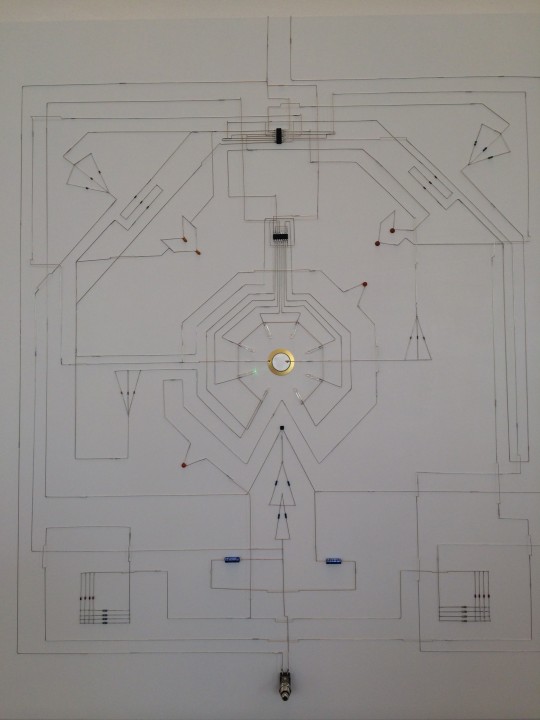 In der Beschreibung der Arbeit wird das Zitat von Hans Krailsheimer vorgestellt: Many correct decisions were made because the way for the wrong one was just not free. " Das tägliche Leben beinhaltet richtige und weniger richtige Entscheidungen. Jeden Tag immer und überall. Einige dieser Entscheidungen haben grosse Wirkung auf das spätere Leben , andere derweil spielen keine Rolle. Manche beeinflussen nicht nur das eigene Leben sondern das anderer oder sogar von Gemeinschaften. Dieses Bild ist eine Metapher für das Leben. Es stellt sich eher als Bild als als Interface dar. Nur mit einem Knopf wird ein Lichtkreis geschlossen. Oder aber auch nicht.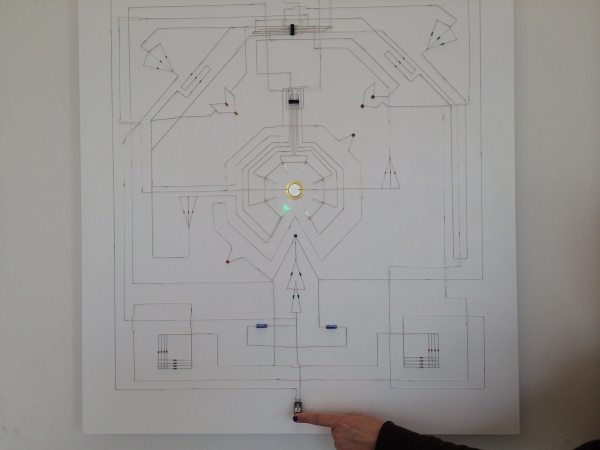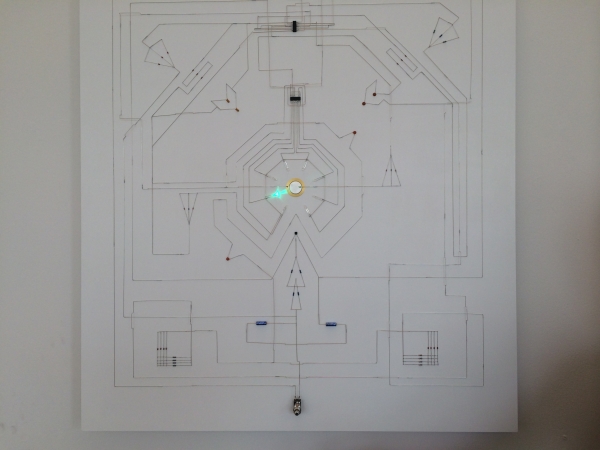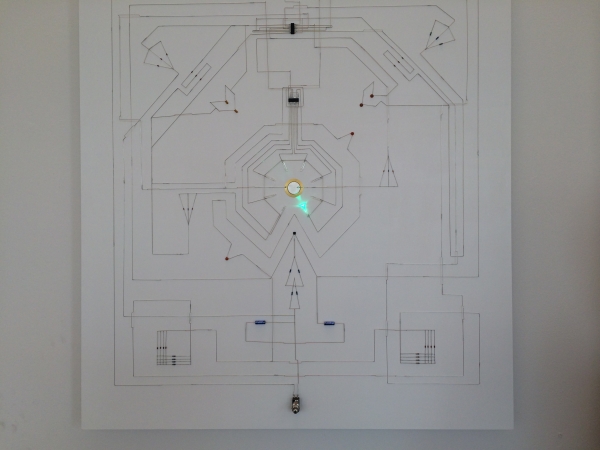 .
………………
Die in der Mitte liegende Schaltzentrale, Knotenpunkt bezieht sich auf den Einzelnen. Wir stehen für uns jeweils in der Mitte aller Dinge, Gedanken, Regungen und Entscheidungen. Dort werden individuelle Ziele und Erfolge aufgezeichnet. Aber es gibt eine Menge Kanten und Ecken, Umwege und Misswege. Die finden sich an den Aussenseiten des Bildes. Wie eine Person in einem Irrgarten versucht Elektrizität auch einen Weg zu finden, und dabei wird immer der kürzeste gesucht.
Das Projekt "Kurzschluss" ist ein elektronischer Entscheidungsgerät in der Form eines Labyrinths.
Eigentlich lässt es sich mit Flaschendrehen vergleichen. Ich stelle also eine Frage und lege die Antworten innerlich an den unterschiedlichen Ausgängen an. Dann drücke ich den Knopf uns schaue wo das Licht aufscheint. Das wird der richtige Weg sein. Die Entscheidung ist gefällt. Danke Kurzschluss.
Photographien von Ursula Drees gesehen auf der Ars Electronica 2014 Linz
Comments are closed.