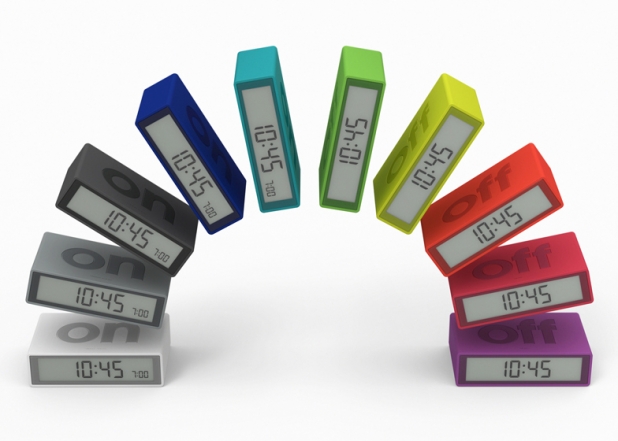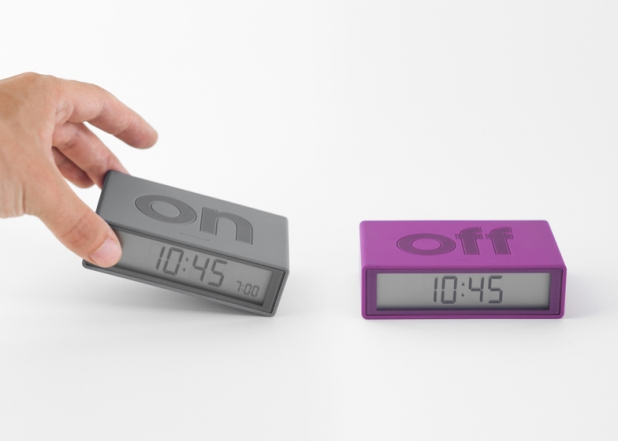 ©DEZEEN: Adrian and Jeremy Wright für die Französische Designmarke Lexon
Adrian and Jeremy Wright für die Französische Designmarke Lexon
Wenn sowieso schon alles im cell phone vereint ist, dann muss ein Wecker klar und deutlich zu seiner Funktion stehen und ausserdem noch was besonderes haben. Genau das tut Flip. Entwickelt von  DesignWright für Lexon geht es hier ziemlich klar zur Sache. Der rechteckige Block ist an den breiten Seiten entweder griffig mit ON oder OFF beschriftet. Wenn man ON sieht dann ist der Wecker aktiv,  bei OFF entsprechend ist er aus.  Bei ON sieht man ein kleines Uhrensymbol an der rechten Ecke des Displays und die gesetzte Zeit.  Wenn der Wecker klingelt, nimmt man ihn und dreht in auf die OFF Seite. Das war es. Die Display Numbern rotieren natürlich mit.
"The concept came from a simple observation that the seven segment display is symmetrical, which allows you to display numbers both ways up," erklärt Adrian Wright. "We thought instead of trying to find a small button in the dark to turn the alarm on/off, you just turn it over and the time flips as well."
Beide Seiten sind touch sensitiv, das funktioniert auch als Snooze Button, gleichzeitig als LED Display Illuminator. FLIP ist wie ein Iphone nur eben als Wecker, und zwar nur als Wecker. Solche kleinen Designelemente verschönern das Haus, Kinder lieben den Wecker. Und ich auch.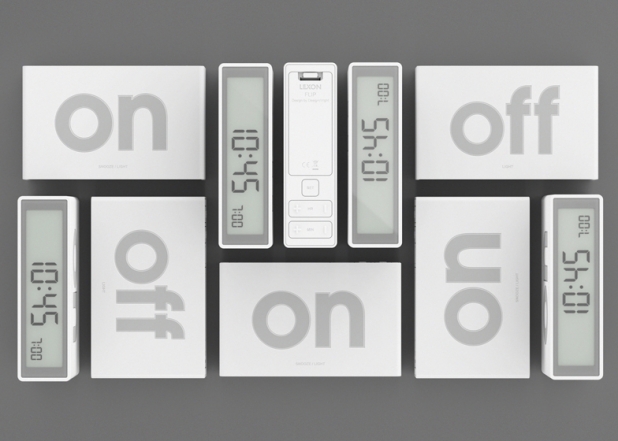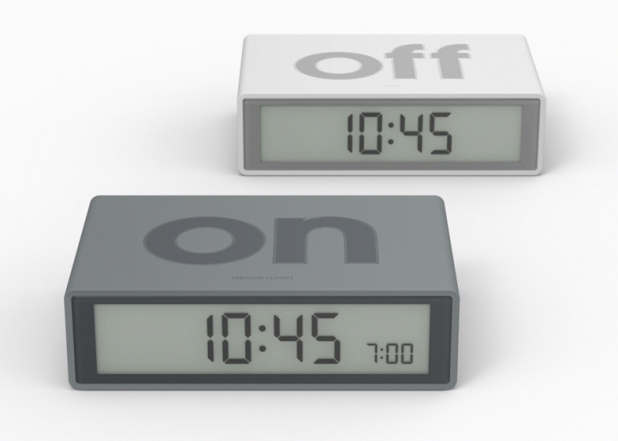 ©DEZEEN:Adrian and Jeremy Wright für die Französische Designmarke Lexon
Comments are closed.