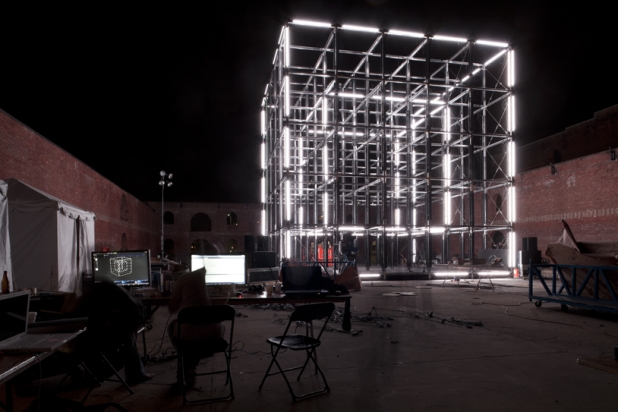 Origin ist die vorerst Letzte der gross formatigen LED Skulpturen der Künstlergruppe UVA (United Visual Artists) aus London. Diese Skulptur ist Teil des "The Creators Event" Festival in New York und untersucht die Akzeptanz der Menschen mit technischen Medien und Formen zu leben.
Sie ist zwischen 2 Brücken an der Küste von Brooklyn installiert. 10 m x 10 m umfasst die quadratische Skulptur, sie ist begehbar und reflektiert die Bewegungen der Besucher im Innenbereich.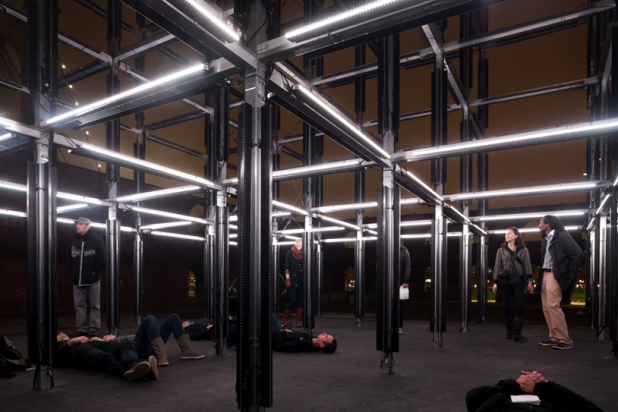 Es ist ein Baugerüst das durch RGB-LED Leuchtmittel, die an der Konstruktion installiert werden, zu einem reaktiven und bewegten Kunstcubus wird.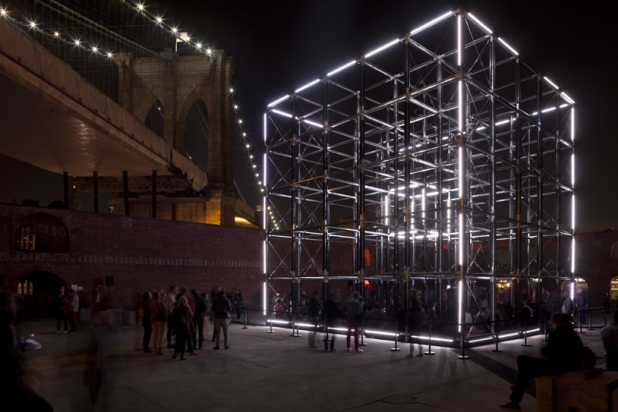 Origin is das Ergebnis und die Verdichtung einer Serie von Arbeiten und Tests die während der Entstehung von Orchestrion, einer aufwändigen Bühnenshow für Coachella 2011 entstand ist. DAs Coachella Valley Music and Arts Festival (auch bekannt als Coachella, Coachellafest oder Coachella Festival) ist jähliches 3 Tagefeestoval für Music und Arts was von Goldenvoice (eine Ausgründung der AEG Live) veranstaltet wird. ES wird in der Regel im Empire Polo Club in Indio, California abgehalten.
Origin ist eine Zusammenarbeit von United Visual Artists und Scanner, die für die Musik verantwortlich sind.

Origin from United Visual Artists on Vimeo.
In Auftrag gegeben von The Creators Project, 2011
Musik und Soundscore von Scanner
Zusätzliches audio programming: Henrik Ekeus und Dave Meckin
Produziert von Keri Elmsly
Photos von James Medcraft und von Bryan Derballa
Comments are closed.