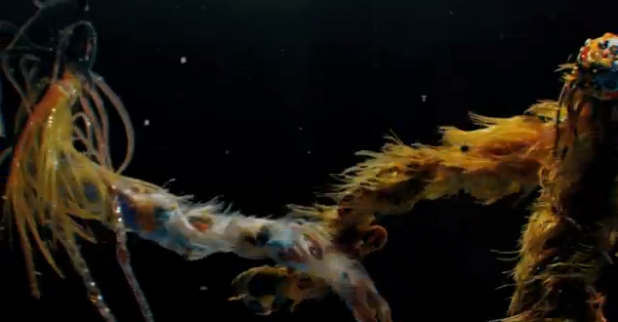 Dieser Kurzfilm zeigt Zerschmelzen. Unaufhaltsam und sogar bedrohlich. Immer beginnen die Geschichten langsam, ein sanftes hin- und herschwenken, ein Vor – und Rückbewegen. Aus Wenig wird Viel und bleibt stets in der Ordnung der Elemente. Wenngleich der Kern der Bewegung überlagert wird oder zur Einheit eines neuen Anderen. Die Partikel bleiben erhalten, das Grosse wird neu geschaffen. In der Nähe ein Chaos, aus der Ferne ein gleichmässiges Pulsieren. Wenn der Mensch im Spiel ist ist er Pendel oder Sanduhr, nichts mehr als der Träger einer anderen Sache. Er ist der Stoff aus dem das Leben kommt, aber selbst spielt er keine Rolle. Zum Ende hin löst sich alles in Sand und Partikel auf. Ein See an Farben und Bewegung. Ein Sturm, Inferno, eine Apokalypse.
WINNER at SLAMDANCE 2012 of the Special Jury Prize for Experimental Short
Original Soundtrack: http://soundcloud.com/thenautilusdiary/sets/solipsist-soundtrack/
Cast Featuring: Mary Elise Hayden, Marissa Merrill & Dustin Edward
Executive Producers: David Lyons & Andrew Huang
Producers: Laura Merians & Stephanie Marshall
Cinematographer: Laura Merians
Production Designer: Hugh Zeigler
Costume Designer: Lindsey Mortensen
Hair & Makeup Designer: Jennifer Cunningham
Sound Design & Original Score: Andrew Huang
A Moo Studios & Future You Production
Copyright 2012 Andrew Huang All Rights Reserved.
Comments are closed.