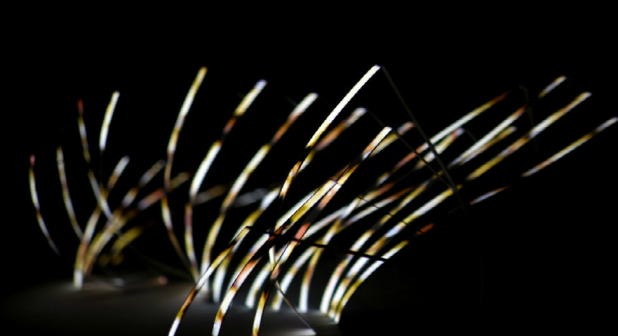 Dieses Video Mapping ist ein Experiment. Es ist abstrakt und unwirklich. Der Autor selber sagt, es handelt von einer utopischen Landschaft von Erschaffung, Zerstörung und Wiedergeburt. Diese Beschreibung darf metaphorisch verstanden werden einerseits, andrerseits ist es genau das, was zu sehen ist. Schwarzweiß, Hell Dunkel, Natürliches und Unwirkliches treffen aufeinander. Manchmal lässt sich das Gesehene mit Namen bezeichnen, manchmal bleibt die Deutung des Bildes der Phantasie überlassen. Ist der Aufbau klein oder gross kann schwer bestimmt werden. Ich vermute es sind Miniaturen.
Piece Of Paper from Daniel Schwarz on Vimeo.
Deshalb habe ich näher hingeschaut. Daniel Schwarz bestätigt die Annahme des Kleinen. Einige dreieckige Papierskulpturen, einige ausklappbare Gebilde und 40 Kilo Erde wurden in dem Photostudio von der Fabrica ausgelegt. Das Licht stammt nur von zwei Videoprojektoren, die auf das Musikstück von Amon Tobin mit dem Titel "Piece of Paper" reagieren. Alles wurde mit vvvv umgesetzt. Einige Bilder sind auf die Skulpturen gemapped, andere nicht. Sie sind generiert und basieren auf verschiedenen Algorithmen, es gibt Fotografien aus Italien und Kroatien und letztendlich natürlich die Musik.
Die Präszision des Videomappings wurde mit den unbearbeiteten Photographien verbunden. Die Autoren kombinieren die Genauigkeit und Planung der Video Mapping Bilder mit Originalabbildungen auf gezackte und unregelmässige Formen. Das zusammen schafft die entstandene Bildästhetik. Die gezeigte Aufzeichnung entstand mit einer Canon 5d Mark II.
Video – Daniel Schwarz / danielschwarz.cc
Music – Amon Tobin / amontobin.com
Comments are closed.