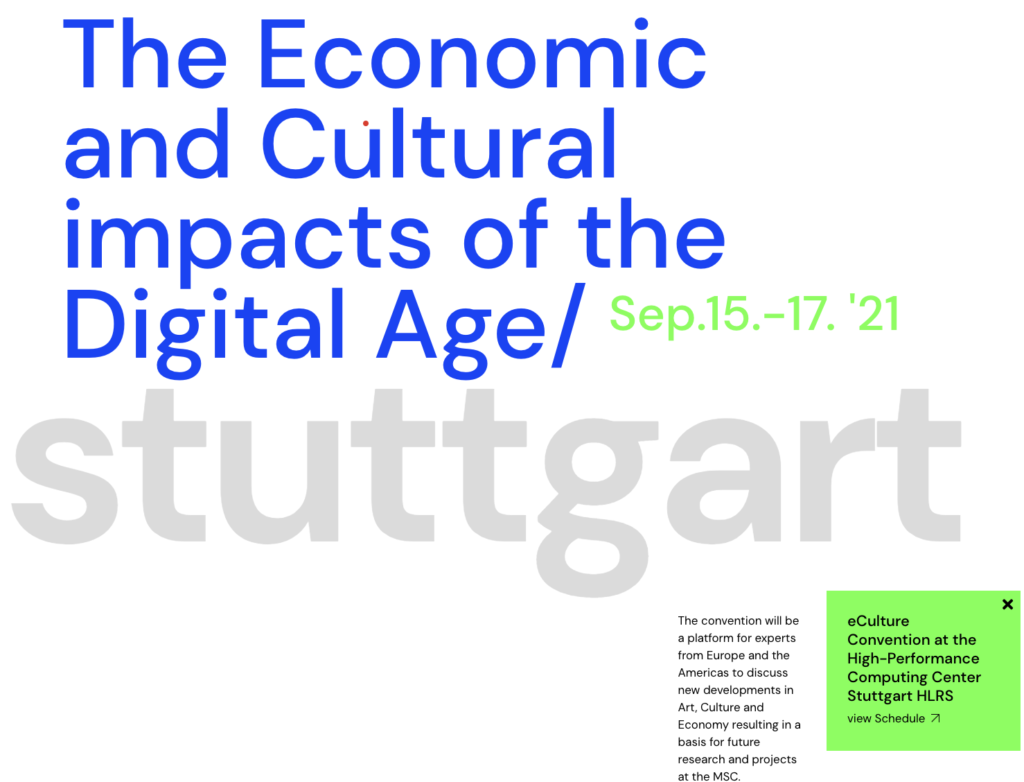 hiermit möchte ich für eine Konferenz in Stuttgart vom 15. – 17 September im HLRS (High Performance Computing Center Stuttgart) werben.The Economic and Cultural Impacts of the Digital Age. Es geht um neue Entwicklungen im Bereich Kunst, Kultur und Wirtschaft und wird durch das Media Solution Center organisiert.
Sie erstreckt sich über drei Tage und eine Anmeldung ist erforderlich. Für Studierende ist sie kostenlos. Sie können Tage oder Sessions reservieren. https://ecultureconvention.com/reserve/

Schauen sie auf die Agenda, sie werden sehen, es kommen interessante Leute wie Farè Al_Dahdah (Houston, USA) der über "Data at the Intersection of Time and Space"  aus Sicht des Center for Research Computing's Spatial Studies Lab der Rice University spricht. Oder Ludger Brümmer (Komponist und Professor für Composition) vom ZKM, Hertz Labor "Experiments in Art and Economic, Jannick Hofmann (lehrt am KIT und ist grad mal 33 Jahre alt,) über "The Intelligent Museum", Peter Weibel (Silberrücken ZKM, ein ganz Bekannter, da sag ich nichts zu) steht mit "Renaissance 2.0″ auf dem Podium oder Andreas Kaminski (GastProfessor a der RWTH Aachen in Philosophie und Technologie) und Sebastian Hellersleben reden über "TRUST – des – Information & Technology. Die Fundación Èpica (dahinter verstecken sie die Gründer der Gruppe "La Fura dels Baus" also Javier Igelsias Garcia und Pep Gatell aus Barcelona) machen einen Workshop zu Anticipartory Arts. Clara Goncalves aus Portugal spricht über "Experience als Direktorin des Parque Tecnologico", Dr. Daria Tataj über "The EIT KIC model: Financial Sustainability and Transformation Impact" oder Bernd Fesel spricht über "Renaissance 4.0  and EIT Knowledge and Innovation Communikty (KIC) Cultural and Creative Industries." Das sind schon viele der Speaker, Bernd Eberhardt und Jan Adamczyk, Professoren sprechen über Entwicklungen an der Hochschule der Medien und aus dem Institute of High Performance Computing kommt Michael Resch. Schauen sie einfach auf die Website.

https://ecultureconvention.com/
Vielleicht interessiert sie etwas und dann melden sie sich an. 
Comments are closed.