Die Betreiber der Regionalen Bahnen Northern Rail haben 2010 eine Lichtkunstinstallation für den Bahnhof "Sunderland" im Nordosten Englands beauftragt. In den 30iger Jahren des letzten Jahrhunderts überspannte die Station eine massiveiserne Lichtkuppel, die es heute nicht mehr gibt. Die Station bestand vor der Überarbeitung aus zwei Bahnsteigen, einer davon nicht genutzt. Eine trostlose Situation.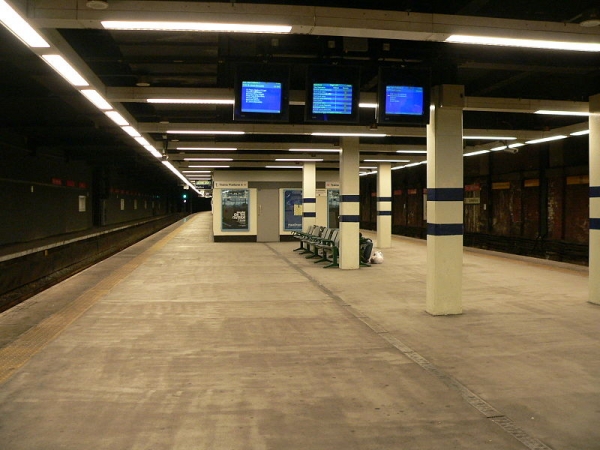 © Chris McKenna
Es wurde eine 140 m lange Glaswand in dieser "Harry Potter like Station" installiert. Der verwaiste Bahnsteig wird verdeckt. Jonathan Hodges Künstler von Jason Bruges Studios hat mehr als 60 Freiwillige in kleinen Sequenzen aufgenommen. Sie tragen Koffer, warten, bewegen sich von links nach rechts, drehen sich weg stehen, sie tun etwas.
"Moving human figures etched in light will appear behind the wall resembling passengers waiting for a train, and will disappear with each passing train." Zitat eines Freiwilligen.
Die aufgenommenen Passanten werden auf die Glaswand projiziert. Geisterhafte Erscheinungen bewegen sich und sollen den Eindruck erwecken, als sei das nun verdeckte Gleis belebt. Die Glaswand stellt eine Repräsentation des alten Gleis dar.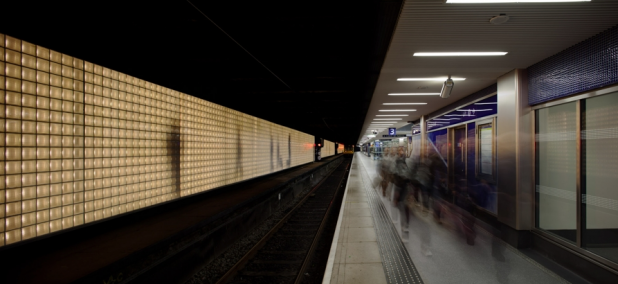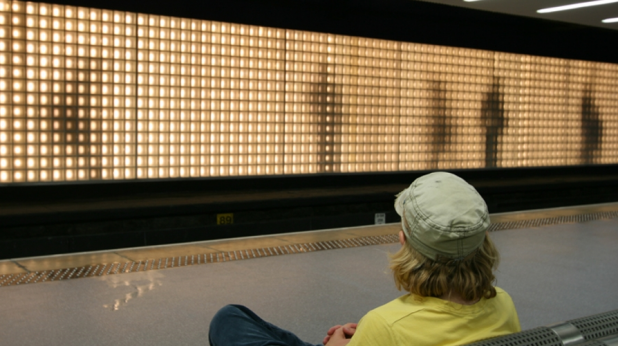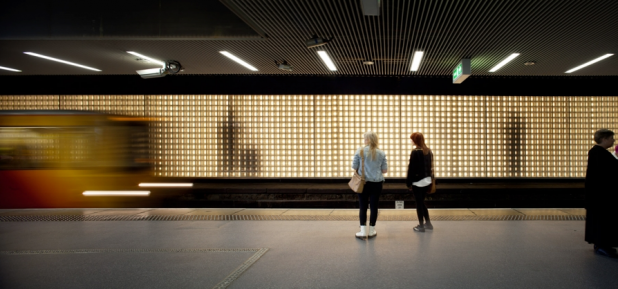 ©James Medcraft
"It's also where there was a platform which is now blocked up, so it's an echo of what was there before – as well as mirroring the platform opposite.It does look back, but I think it's really about where Sunderland is going," so Künstler Jonathon Hodges des Jason Bruges Studios. Die einzelnen Glasteile werden zu einer grossen low-resolution Video Matrix (755×15 pixels). Die Installation wirkt kontemplativ und fügt sich inhaltlich, historisch und gestalterisch in die Ursprungssituation ein. Nicht nur das, sie belebt.
Comments are closed.