Der Dänische Pavillion erzählt die Geschichte einer Kentaurenfamilie, halb Mensch, halb Pferd sind sie hybride Wesen der griechischen Mythologie. Kentauren sollen von Ixion dem König der Lapithen in Thessalien und einer Wolke abstammen. Auf einem Fest des Königs Ixion wird Hera von dem betrunkenen Herrscher belästigt. Zeus rät Hera daraufhin, sie solle zu einer Wolke werden. Doch Ixion "sticht" das Trugbild an und zeugt einen Kentauros, der sich später mit den Stuten von Magnesias paart und damit die hybride Gestalt Pferd und Mensch zum Leben erschafft. Kentauren gelten als lüstern und unbeherrscht.
Heute erkennen die Besucherinnen eher einen hyperrealistisch geschaffenen Charakter aus Mensch und Tier. Die Charaktereigenschaften des Pferdes werden auf die Gestalt wohl eher projiziert als die griechische Mythologie.
Wir werden Zeuge eines fürchterlichen Unglücks. Der männliche Kentaur baumelt erhängt von der Decke. Er trägt einen Lederriemen um den Brustbereich, dessen Funktion unklar ist. Der Raum ist gross und linkerhand findet sich ein Raum, mit auf dem Boden liegenden Schlachtabfällen und einem hängenden Schinken. Es sich wohl um einen Stall. Scheinbar leben sie nicht frei, sie werden gehalten. Sie werden vielleicht sogar als Nutzkreaturen gehalten, erst gemolken, dann irgendwann geschlachtet. Der kleine Garten lässt Rückschlüsse auf ein eingesperrtes Leben zu. Die Kentauren werden mit Algen gefüttert.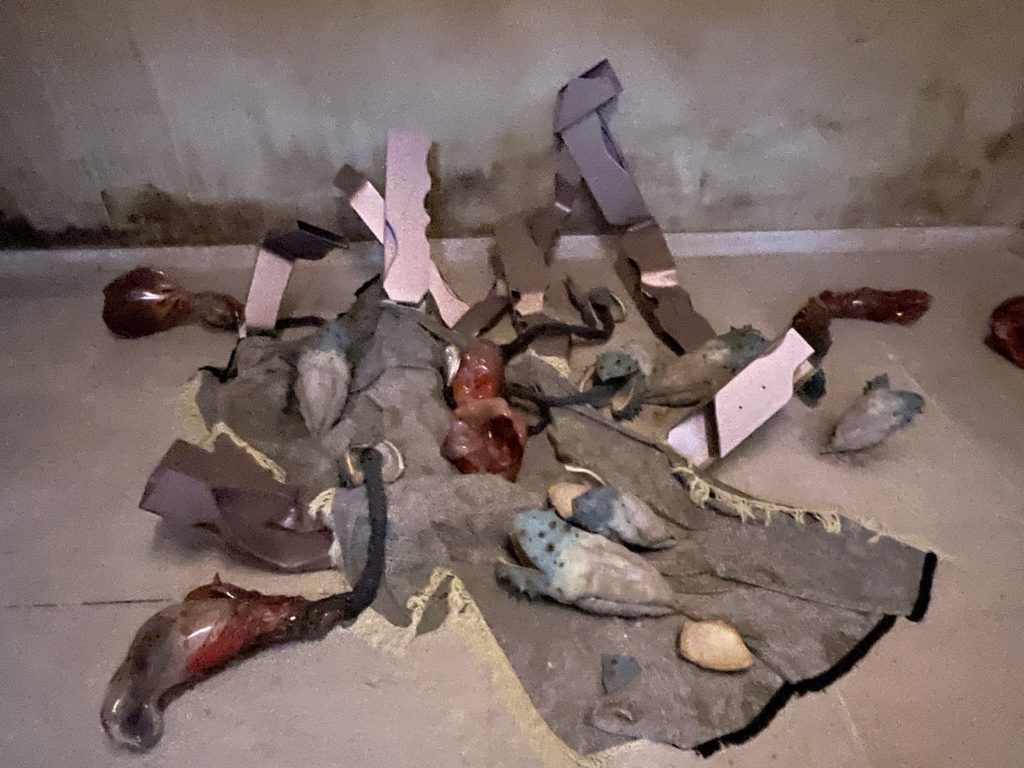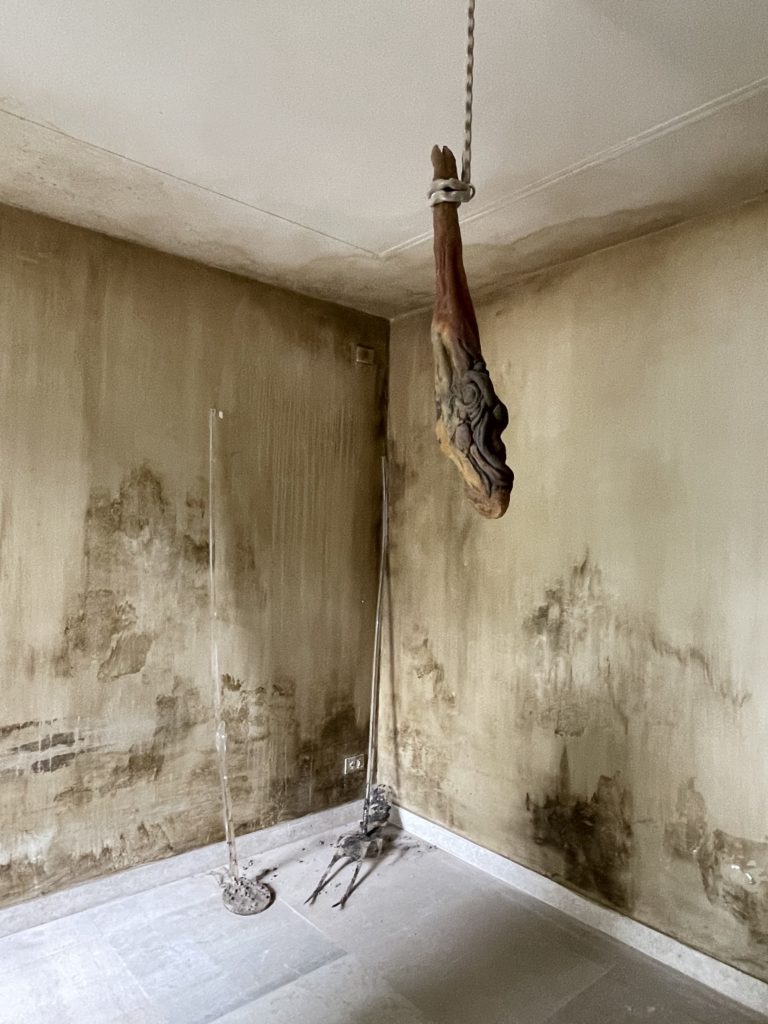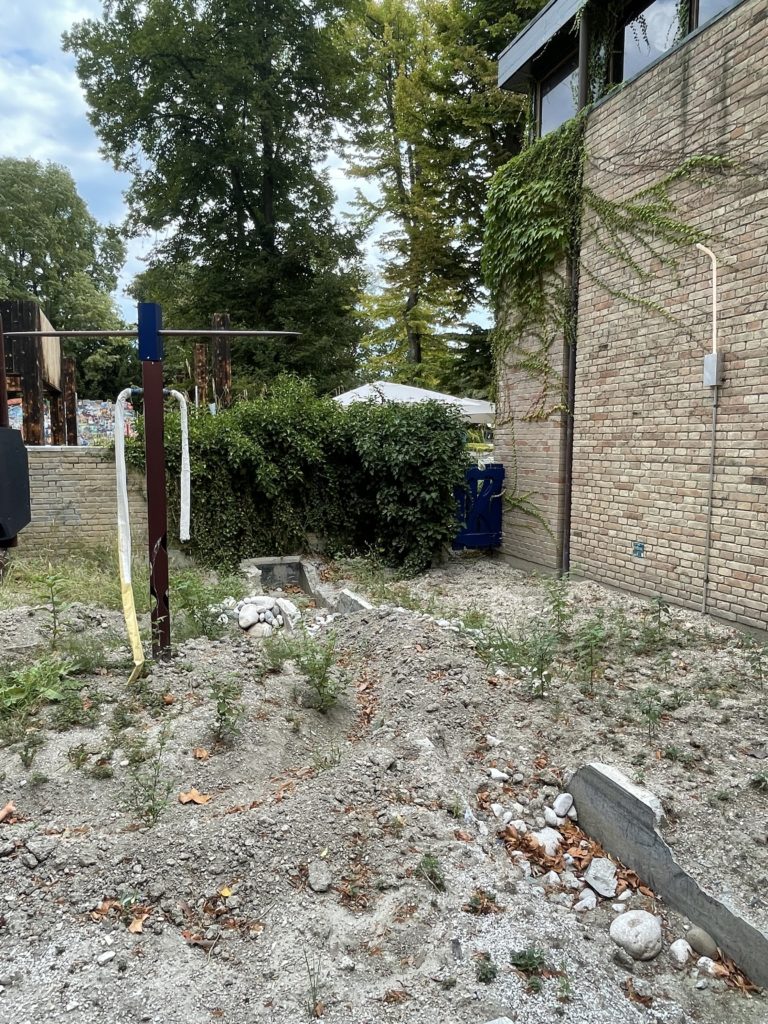 Auf der anderen Seite dieser Szenerie führt ein mit Algen ausgelegter Gang zur weiblichen Kentaur. Sie hat die Geburt ihres Nachkommen nicht überlebt. Das Kentaurenfohlen ist noch in der Fruchtblase, die Mutter bereits verstorben. Eine Tragödie hat sich abgespielt. Ursache und Wirkung bleiben den Besucherinnen überlassen. Was mag hier geschehen sein?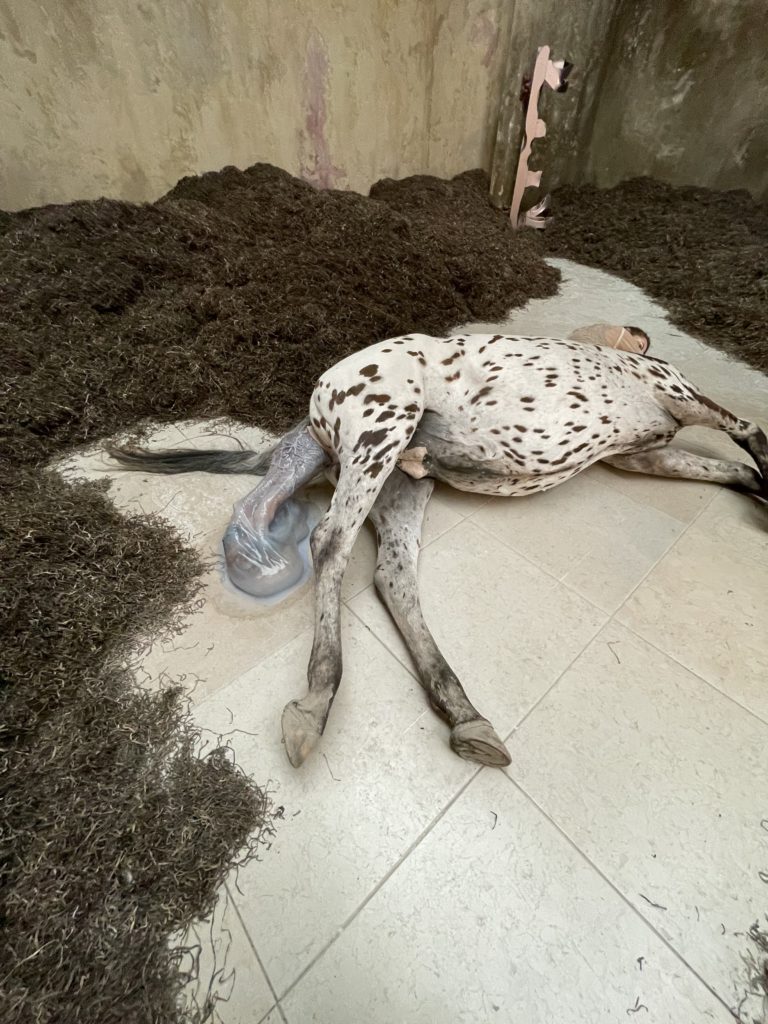 Hat sich der männliche Kentaur erhängt, nachdem seine Frau bei der Geburt umgekommen ist? Oder spielte sich alles umgekehrt ab? Musste die Frau in Ermangelung von Hilfe bei der Geburt sterben? Ist der Mann vielleicht erhängt worden? Haben hier menschliche Kräfte mitgewirkt?
Alles ist hyperrealistisch gestaltet. Es gibt kaum eine Möglichkeit diesen grausamen Bildern auszuweichen. Keine Abstraktion, keine Künstlichkeit. Besucherinnen werden unmittelbare Zeugen, sie sind am Tatort, inmitten der Geschichte und keine aussenstehende Betracherinnen mehr. Durch sie, die Menschen, findet keine Hilfe statt, keine Aufklärung, keine Beerdigung.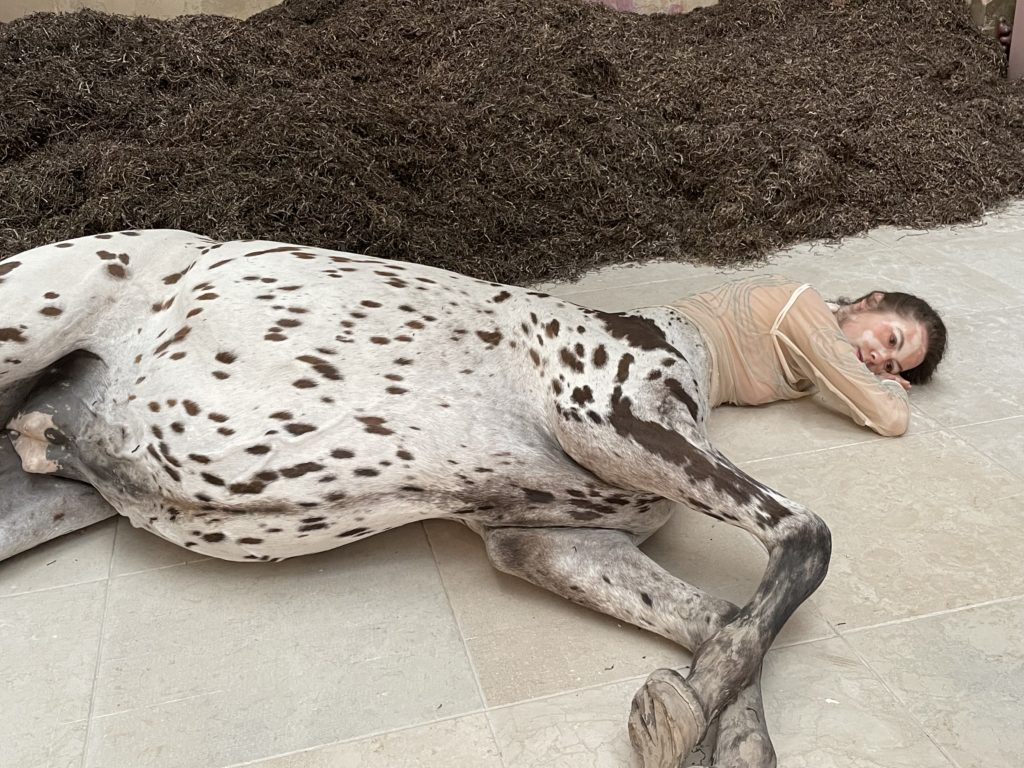 Das Motto der Biennale lautet "The Milk of Dreams" und basiert auf einem von der britischen surrealistischen Künstlerin Leonora Carrington (1917 bis 2011) verfassten Buch. Das Leben der Autorin führte sie von England nach Frankreich, USA und Mexico. Sie hatte in jüngeren Jahren mit Max Ernst eine kurze Beziehung und musste sich dann Zeit ihres Lebens von dem Schatten den grossen Künstlers befreien. Frauen wurden gerne auf Beziehungen reduziert.
Das Buch "The Milk of Dreams" entstand als sie für ihre Kinder, jetzt schon in Mexico lebend und arbeitend , humorvolle surrealistische Geschichten ausdachte.
Ihre Söhne erinnern sich, dass sie in einem großen Raum saß, dessen Wände mit Bildern von wundersamen Kreaturen, hoch aufragenden Bergen und wilder Vegetation bedeckt waren, während sie fabelhafte und lustige Geschichten erzählte. Dieses Zimmer wurde später weiß getüncht, aber einige seiner Wunder wurden in dem kleinen Notizbuch bewahrt, das Carrington The Milk of Dreams nannte. John, der Flügel anstelle von Ohren hat, Humbert der Schöne, ein unerträglicher Junge, der sich mit einem Krokodil anfreundet und noch unerträglicher wird, und die furchteinflößenden Janzamajori. Es ist ein unwahrscheinliches, verträumtes Märchenbuch.
Der Dänische Pavillon greift tief in einen Alptraum hinein.
Die Photographien stammen von der Autorin.
Beitrag von Ursula Drees